U.S. District Judge Brian Morris (pictured) canceled a hearing set for November 20 in a case challenging Montana's ban on gay marriage, signaling that he is ready to rule.
The AP reports: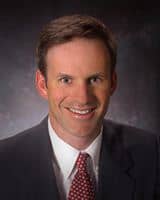 The four gay couples who sued to overturn the ban along with Attorney General Tim Fox, who is defending the ban, agreed that U.S. District Judge Brian Morris has enough information to decide the case without the formal hearing that had been scheduled next Thursday.
The 9th U.S. Circuit Court of Appeals recently struck down similar gay-marriage bans in Idaho and Nevada. The American Civil Liberties Union of Montana expects a favorable ruling because the 9th Circuit includes Montana.
The ACLU filed for summary judgment in the case on October 15.
Said ACLU of Montana Legal Director Jim Taylor at the time:
"We don't think there are any material facts in dispute, and so the case can be decided without a trial. The ban on same sex marriage in the Montana Constitution is the same as the bans that were ruled unconstitutional in Idaho, and Nevada. The four couples in our case are situated the same as the couples who won in the Idaho and Nevada cases. We are raising the same issues that were raised in the Idaho and Nevada cases, and we are optimistic that the decisions of the Ninth Circuit in those cases will convince the District Court to rule in our favor."
The lawsuit was filed in May on behalf of four same-sex couples.
State attorneys plan to continue defending the ban, according to the AP, but Governor Steve Bullock has spoken out in favor of the couples' right to marry:
"Montanans cherish our freedom and recognize the individual dignity of every one of us. The time has come for our state to recognize and celebrate – not discriminate against – two people who love one another, are committed to each other, and want to spend their lives together."