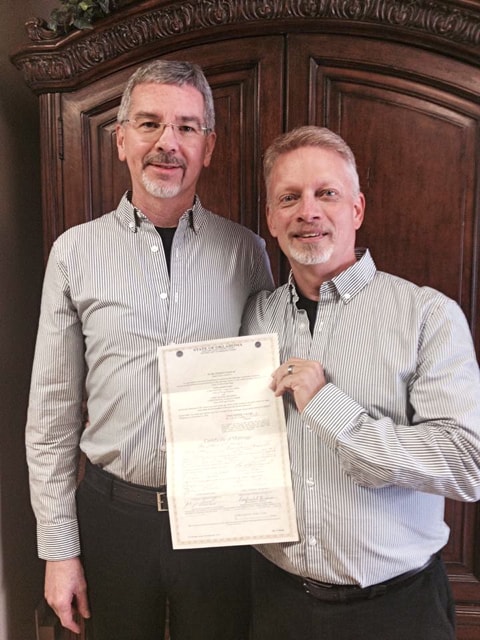 File this under, "Signs we've almost won."
John Smid (above right), the longtime leader of one of the most prominent "ex-gay" therapy programs in the US, has married his same-sex partner — in Oklahoma, no less. 
Smid served as director of Love In Action and spent 11 years on the board of Exodus International. Three years ago, Smid publicly renounced "ex-gay" therapy and came out as gay.
Smid said he and his partner, Larry McQueen (above left), obtained their marriage license in Hugo, Oklahoma — a 35-minute drive from their home in Paris, Texas — before holding a ceremony in Tulsa on Sunday.
"I believe that due to my former notoriety, my marriage will definitely have its impact," Smid told Towleroad on Monday. "I believe it is encouraging for other former ex-gays, and maybe even those who are still trying to hold on to their ex-gay belief system. We think our relationship reveals something very normal, not strange or deceptive gay stereotypes. We have come to realize that our marriage is very much the same as your average heterosexual marriage."
Smid has apologized extensively for his role at Love In Action — penning a book and reaching out to survivors of the program individually. He has pointed out that the leaders of "ex-gay" therapy programs are often victims, too.
Asked whether there are still those in the LGBT community who don't think he deserves to be happily married, Smid said, "No actually, I think that's been worked out, but you never know, there may be some."
Smid has been married twice before — both times to women. He had two children in the 1970s before living as openly gay for several years in the 1980s.
After marrying again and spending two decades in the "ex-gay" movement, Smid said he began to drift away from it in 2005, when Zach Stark, a teenager in Love In Action's residential treatment program, posted cries for help on MySpace.
The posts fueled protests outside Love in Action, as well as stories in the national media. One of the protesters was Morgan Fox, a filmmaker who eventually directed a documentary about the experience called, "This Is What Love In Action Looks Like." Smid agreed to be interviewed by Fox, and they became friends.
After leaving Love in Action, Smid launched his own ministry, Grace Rivers, which now focuses on the gay community. He divorced his second wife in 2011 and moved to Texas to live with McQueen last year.
"I realized this week that my relationship with Larry is a mirror I see in every day," Smid wrote in announcing their marriage on Facebook. "For most of my life, the mirror I saw reflected my mistakes, shortcomings and failures. The reflection I see today with Larry shows me the positive things in my life, my strengths, gifts and talents. I see how I can succeed at a mutual intimate and loving relationship. For this, I am truly grateful.
"At this time our federal government recognizes our legal marriage, our home state of Texas does not," Smid wrote. "However, we hope that Texas will soon accept our marriage as legitimate and legal."