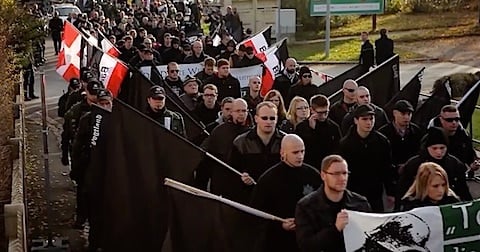 Every year for the past 25 years, a group of neo-Nazis marches in Wunsiedel, Upper Franconia, the former burial place of Hitler's deputy Rudolf Hess. But they got a big surprise this year when they unwittingly marched against themselves after the town secretly turned their march into a walkathon to raise money against them.
Write the organizers:
On November 15th, neo-Nazis walked through the streets of Wunsiedel. We could not stop them – but we could make them walk for something meaningful: and that is how for the first time a right-wing memorial march became a charity walk – without knowing of the participants. For every meter they walked, €10 went to EXIT-Deutschland – a Nazi opt-out programme. The result: €10.000 and lots of surprised right-wing extremists. But we believe there is more to come. With your support. Engage against neo-Nazis – in everyday life, online or with a donation. www.rechtsgegenrechts.de
Watch the video, AFTER THE JUMP…
Along the way they were mocked with signs reading "If only the Führer knew!"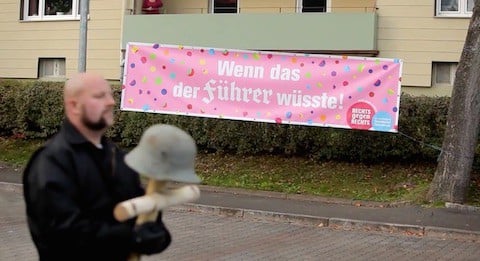 They also provided bananas for the marchers with a sign reading "Mein Mampf" (my munch).
Don't miss the clip, AFTER THE JUMP…
Gleich sind sie reif. Gleich gibt es "Mein Mampf" für den Endspurt #wunsiedel #rechtsgegenrechts pic.twitter.com/xXPDpbJNnf

— Rechts gegen Rechts (@RechtsgegRechts) November 15, 2014