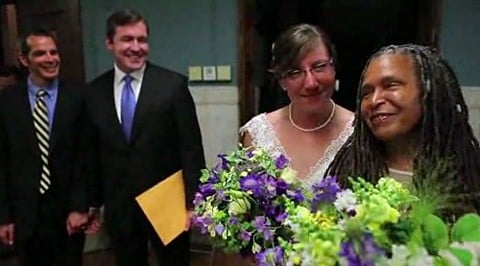 St. Louis, Missouri Circuit Judge Rex Burlison ruled today that officials in that city can issue marriage licenses to gay couples, the St. Louis Post-Dispatch reports: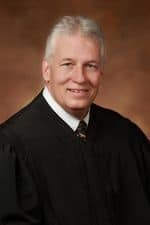 "The Court finds and declares that any same sex couple that satisfies all the requirements for marriage under Missouri law, other than being of different sexes, is legally entitled to a marriage license," Burlison wrote.
He said that the Missouri Constitution violates the Equal Protection Clause and Due Process Clause of the Fourteenth Amendment to the U.S. Constitution.
Burlison's ruling comes more than four months after four couples were married at St. Louis City Hall, even though there is a 10-year-old constitutional amendment defining marriage as between one man and one woman.
The act of defiance, choreographed with the support of Mayor Francis Slay and then-Recorder of Deeds Sharon Carpenter, led Attorney General Chris Koster to file an injunction preventing more marriage licenses from being issued to same-sex couples.
Freedom to Marry adds:
On-the-ground advocates confirmed that the judge did not place a hold on the decision, meaning that as soon as today, same-sex couples in St. Louis should be free to marry right in theri home city.
The decision is in St. of Missouri v. Jennifer Florida, a state legal case filed by the state of Missouri in the summer of 2014 after then-Recorder of Deeds Sharon Carpenter issued marriage licenses to four same-sex couples in Missouri. It comes just over a month after a related ruling in state court in Barrier v. Vasterling, which declared that Missouri must respect the marriages of same-sex couples performed in other states. Missouri Attorney General Chris Koster did not appeal the Barrier ruling.
Read the ruling below, via Equality Case Files: