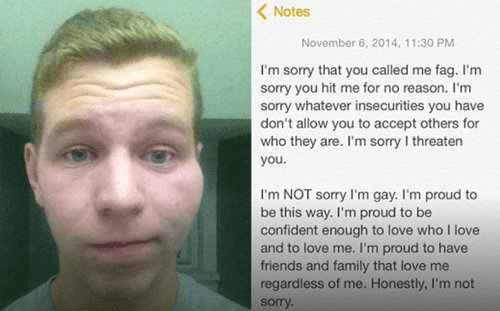 A gay student in Ohio who claims he was assaulted after kissing his boyfriend took to Twitter late Thursday to let his homophobic attacker know he isn't going to be intimidated by the incident, The Telegraph reports:
Cole Ledford, an undergraduate at Ohio State University in Columbus, posted a message on Thursday November 6 entitled "To the guy who punched me tonight for kissing my boyfriend", along with a photo of himself, displaying severe bruising to his cheek.
The message stated: "I'm sorry that you called me fag. I'm sorry you hit me for no reason. I'm sorry that whatever insecurities you have don't allow you to accept others for who they are. I'm sorry that I threaten you."
Ledford continued: "I'm NOT sorry I'm gay. I'm proud to be this way. I'm proud to be confident enough to love who I love and to love me. I'm proud to have friends and family that love me regardless of me. Honestly, I'm not sorry. 
Cole's message has since been retweeted over 26,000 times and has over 54,000 favorites. He also posted a follow-up message encouraging people to donate to the HRC and a photo with his boyfriend:
If what happened to me makes you want to make a difference please consider donating to the @HRC and help their fight https://t.co/XgTH5BmPuQ

— Cole Ledford (@ColeLedford11) November 7, 2014
Boyfriend wanted to say hi and thanks for the support! Off to Cleveland to see the fam! #loveislove #youallrock pic.twitter.com/O1uZAToqKQ

— Cole Ledford (@ColeLedford11) November 7, 2014