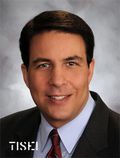 The Boston Globe reports that out gay Republican candidate for congress Richard Tisei has lost the race for Massachussetts' hotly contested sixth congressional district to Iraqi war veteran and Democratic newcomer Seth Moulton:
"Seth has served his country very admirably and very honorably in the military and I'm sure he's going to do the same as the next Congressman from this district," Tisei said in a concession speech.
He said the country faces a lot of problems and "it's important for both Democrats and Republicans to get together in Washington to try to solve those problems."
Moulton, 36, who lives in Salem, made his mark in September by beating nine-term incumbent US Representative John F. Tierney in the Democratic primary. Tisei, 52, a real estate agent from Lynnfield who served in the state Legislature for 26 years, had nearly succeeded in toppling Tierney two years earlier, losing by less than 1 percentage point.
Tisei previously boycotted the GOP's state convention over its anti-gay platform. That did nothing however to endear him to former Massachussetts representative Barney Frank from urging voters not to support Tisei.