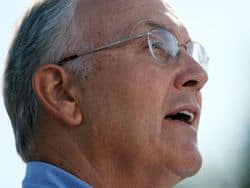 The Idaho Republican Party has hired former U.S. Senator Larry Craig as its financial chair of its executive committee, the Associated Press reports.
The news is somewhat surprising, considering Craig was ordered last month to pay the U.S. treasury almost $250,000 for improper use of campaign funds defending his infamous 2007 Minneapolis airport restroom cruising. 
No word yet on whether the job offer was communicated to Craig via a game of bathroom footsie. 
Check out the The Washington Post's recreation of the stall incident, filmed at the actual scene of the "crime", AFTER THE JUMP…