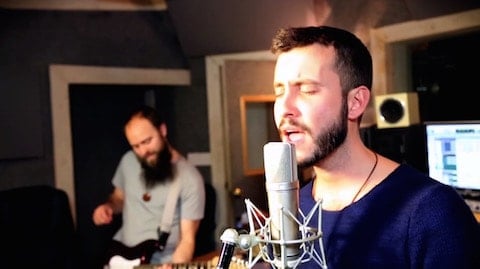 Last year we showed you Irish artist Hozier's music video called "Take Me To Church", which took a very stark, brutal look at the violence and bigotry enacted upon LGBT citizens, in Russia in particular. Artist Mister Chase was clearly touched by the piece, and in a statement to Towleroad Mister Chase told us the impact that his church had on him growing up, and how meaningful Hozier's song was to him:
I grew up in a fundamentalist Pentecostal church, where proselytizing men and women were sitting in every pew. Some of these are the same people that, amidst the barrage of advertising images and rush hour mayhem on the subway, they hand you a pamphlet on God or sin and how you will burn in hell. I'm sure many of you can relate. I was born into this God corporation.
[…]
When I started to come out as gay I was taken to a room directly behind the altar where the board of the church – seven adults – doused me with holy water praying at me as if I were a demon. Scary shit. I was 13.
[…]
So, when I heard Hozier's song "Take Me To Church", it touched me on a deeper level and I wanted to share it. Children should not be made to feel ashamed of themselves on any level, and LGBT kids in particular are easy targets.
Mister Chase made a studio cover of the song to share its message, which you can watch AFTER THE JUMP…
And in related news, Hozier himself is helping bring marriage equality to Ireland – tweeting the below photo to his fans encouraging them to register to vote ahead of next year's referendum on same-sex marriage. 
Remember to register to vote!!! Please RT to spread awareness. #YesEquality2015 pic.twitter.com/8nalTt69Vp

— Hozier (@Hozier) November 21, 2014