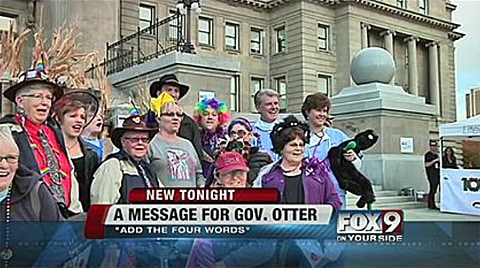 A group of gay and lesbian families and allies from the "Add the Four Words" activist group went to the steps of the Idaho statehouse on Friday where Governor Butch Otter was having a "trick-or-treat" Halloween party  for constituents, ABC6 reports:
They carried treat bags that read "another Idaho family who supports A.J. Baulkoff governor."
They even posed for a picture with the governor and his wife, saying "Idaho's new family" before snapping the shot — something many thought they would never have the chance to say.
"It was mixed emotions, but mostly I am just excited that as a family we could even have the thought to come down here," said Ty Carson. "I've lived here, I'm a third generation Idahoan and I would have never thought that my family would be welcome at the capitol building. I was full of excitement. My heart was racing."
Otter has vowed to keep fighting the Ninth Circuit decision which overturned the state's gay marriage ban and said last week in debate that he's "not ready to surrender to a few folks in black robes." The governor has filed a long shot petition asking  for an en banc rehearing of the case by the full court.
Watch ABC6's report (autoplay), AFTER THE JUMP…