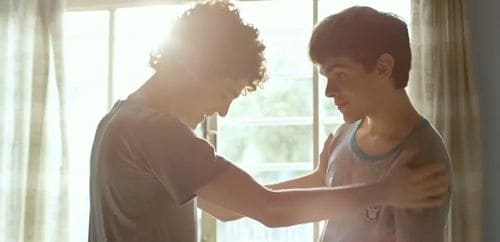 New student Gabriel (Fabio Audi) and his blind classmate Leo (Ghilherme Lobo) in "The Way He Looks"
Nine months after its debut at the Berlinale festival, the gay Brazilian hit THE WAY HE LOOKS (reviewed earlier at Towleroad) is still collecting the hearts of audiences everywhere it shows. And that's a lot of places now. After theatrical runs in France and Brazil it's currently playing in multiple US cities, in the UK and Hong Kong and soon expands to Taiwan and Sweden. This super charming coming-of-age movie charts the slow blooming romance between Leo, a blind student, and Gabriel, the new kid in town. Leo's best girl friend Giovana (Tess Amorim) doesn't react well. If you haven't seen it yet, seek it out. You'll have a new favorite to add to your Best Gay Movies list.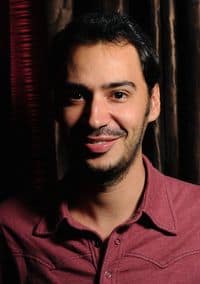 Those who've already fallen for its assured storytelling and sensitive acting might be surprised to hear that it's the debut feature of not only its young writer/director but also its principle trio of actors. 
I spoke with the 32 year old director Daniel Ribeiro this week about his breakout film which has been selected by Brazil to represent them at the Oscars. 
NR: You've been getting great reviews, awards, and audience response since the premiere. Is this the best year of your life or what?
DANIEL RIBEIRO: Probably, yeah! [Laughter] It's been really exciting.
How did you feel when your film was selected to compete for the Foreign Language Film Oscar?
It was surprising. It's a very political choice for our country. Even if we don't get selected, it is the film that is talked about now.  
Brazil — we're in an interesting place. We have a lot of visibility. People are talking about the issues. Young kids are more comfortable about being out. But we have a lot of problems with LGBT rights. We have a very conservative congress and we have a lot of homophobe congressmen staying stupid things.
That sounds familiar! 
MORE AFTER THE JUMP…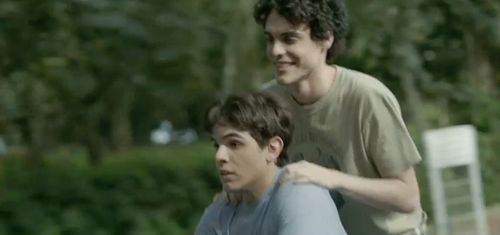 NR: The Way He Looks is expanded from your 2010 short "I Don't Want to Go Back Alone" Did you always mean for it to become a feature?
I wanted it to be my first feature but I decided to experiment on the short — with a young teenager playing a blind character I thought it was going to be difficult — and use it to get funds for a feature.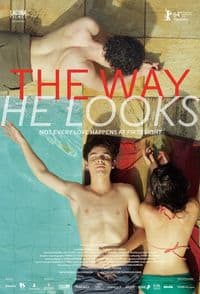 You used the same cast even though there were some years in-between.
It was good that we could keep them. When I cast the short they had such great chemistry that I didn't want to lose that.
Are the actors close friends in real life?
No, they're not best friends even though it seems like it. They are all different ages. Ghilherme who plays the blind one was 14 [when we did the short],  the girl was 16 and Gabriel was 21 — much older. When we finished the short Ghilherme went into high school, Giovana went to an exchange program, and Gabriel was finishing film school. So they each went and did their own thing.
When we met for the feature the chemistry was there again, very natural. All of them came to L.A. for the commercial release. We did Q&As. 
Every few months a reunion for another event! The actors all read the same age onscreen so that all worked out.  Your shorts and first feature all have gay themes. Will you be doing this your whole career?
I don't know. I like working with gay characters. I think they're important. We have so many untold stories. That's something i'm interested in but it's not an exclusive thing.
What kind of movies about the gay experience do you respond to?
I like when gay characters' conflict doesn't revolve around being gay. I think those kinds of films are really important. My movie — I put the gay characters in a natural situation and I think the straight audiences tend to look at it in a different way. They say 'Yeah, this guy falls in love for the first time and wants his first kiss. That's exactly like I was. So when we talk about homosexuality why do I think it's so different and why do I feel disconnected?' In the end we're so alike.
I don't want to get away from talking about the problems we have in our society but I think this is an interesting way to reach straight audiences. And I think for young gay kids it's really important for them to have a reference to who they can be. That's what I wanted to do. To show 14 and 15 year-old kids that what they're feeling is natural. They don't have to be in conflict with that.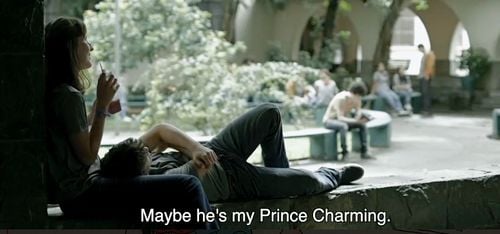 High school is such a universal experience and that age is when you're experiencing crushes and love for the first time. What I found really interesting about the movie is that I realized I hadn't really ever considered how a blind person might realize they were gay. So much of attraction is visual. Did you have a backstory in mind about when / how Leo knew this?
To me he was born gay as every gay person is. I guess we realize we're gay when we look at a guy and we feel sexually attracted to them. Blind people just do it in different ways: voice, touch, personality. Visual is such a big part of it — not only for gay people — that I think sometimes we don't realize how much our other senses and someone's personality makes you fall in love with them. There are so many aspects of attraction. That's what I wanted to portray.
It's interesting for us to say 'he's never seen a guy or a girl. Where does his sexuality come from?'
Coming of age stories are told every year so Leo's blindness is a fresh angle. The kiss is so beautiful and the movie is sweet and innocent. Was it always going to be this subtle about sexuality?
Yes. I'm really interested in the little things. The working title was "All the Simple Things" It's about the small things we don't pay attention to and the little moments in our lives that make life go forward and make us fall in love. 
Did any of your own memories play into it?
It was funny because my first kiss was somewhat like in the short version with the forgotten hoodie. There was this new kid in my classroom and we had come out to each other. One day he pretended he forgot his hoodie at my place and that's how I got my first kiss. I only realized that after the short was made. Wow, it was subconscious what I was doing!
I think there's a lot of who I was in the movie. I also had a best friend and when [the boyfriend] came into the classroom it was a big problem. I think a lot of people have that. [Laughter] I think I had a really normal universal story.
The Way He Looks – Trailer – English Subtitles from Daniel Ribeiro on Vimeo.
Nathaniel Rogers would live in the movie theater but for the poor internet reception. He blogs daily at the Film Experience. Follow him on Twitter @nathanielr.