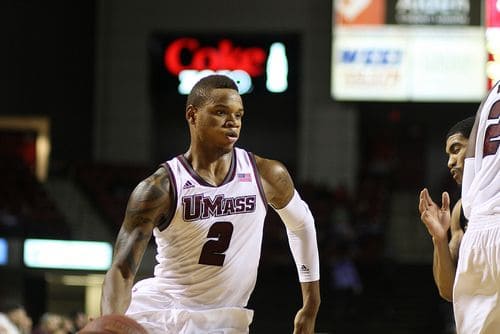 University of Massachusetts shooting guard Derrick Gordon made history last night becoming the first openly gay athlete to play in a NCAA Division I men's basketball game, The New York Times reports:
Gordon finished with 17 points as UMass defeated Siena, 95-87, in front of a crowd of 8,187, the largest at Mullins Center to open a season since 1997.
"I went into it like a regular game," he said. "I've been here before."
Gordon came out as gay back in April in an Outsports profile. Since then, he's amassed quite a following and is often seen sporting a Nike #BeTrue t-shirt. 
In a recent interview with the Boston Herald, Gordon discussed how much it meant to him to see NBA player Jason Collins come out as gay after the 2012-2013 season.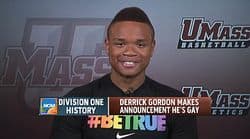 "Everything leads to the NBA for me, and I didn't want my dreams to be shattered because of my sexuality," Gordon said. "So when I saw him come out, that inspired me.
"I said, 'If he's in the NBA and he's openly gay then maybe I can be the same way,' " Gordon said. "And when he played for Brooklyn, I saw a YouTube video of him coming into the game and the whole crowd stood up and applauded. It was, like, man, he has a lot of people supporting him. That did it for me.
Back in May, it was reported Gordon was dating CSI actor Gerrald McCullouch. 
Check out an interview Gordon did with MSNBC after his coming out, AFTER THE JUMP…
[Image via The Daily Collegian]