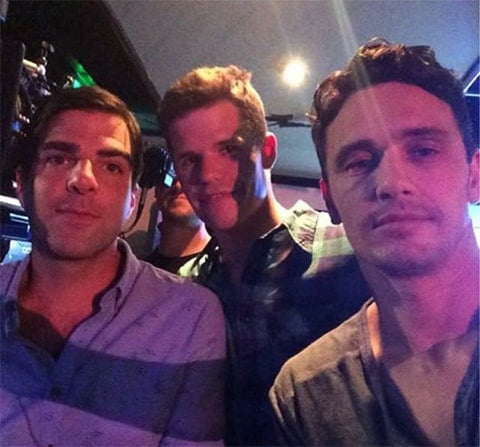 James Franco, Zachary Quinto and former Teen Wolf star Charlie Carver will reportedly be steaming up the big screen in the upcoming film Michael, about former gay rights activist turned ex-gay poster boy Michael Glatze. Franco plays Glatze while Quinto plays his then boyfriend Bennett. E! Online reports how the duo bed Carver in the movie:
"They first meet in a club. The music is pumping. It's the eighties!" a source said. "When Charlie's character questions Franco about having a boyfriend, Franco says, 'He'd like you, too.'"
Cut to the bedroom, where the three are naked, intertwined and "kissing," the source said. "You see their asses." […]
The three enjoy a romance, but when Michael leaves, the breakup is "disastrous and heartbreaking," the source said.
Franco posted a photo of himself and Carver on Facebook in August with the caption "BOOM! Welcome to our Boys Spaceship! Blast off!!!!"
Gus van Sant is executive producing Michael along with Franco. Vince Jolivette, Scott Reed, Ron Singer and Joel Michaely are signed on as producers. It's based on the Benoit Denizet-Lewis NYT article "My Ex-Gay Friend".
Previously, we got to sneak a peek of Franco and Quinto cozying up to one another and rocking their best 90s party boi looks.