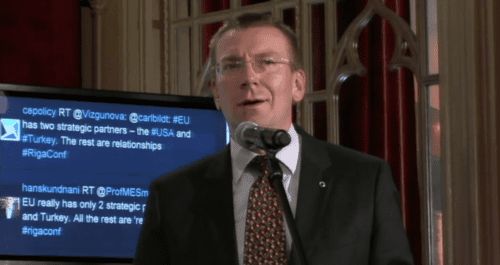 The recently confirmed foreign minister of Latvia surprised the international community with a tweet this week in which he came out as a gay man. Edgar Rinkevics, 41, tweeted out the following a day after becoming the diplomatic representative for the small, democratic Baltic state which happens to share strong ties and a border with Russia. 
I proudly announce I'am gay… Good luck all of you…

— Edgars Rinkēvičs (@edgarsrinkevics) November 6, 2014
Rinkevic's tweet went out Thursday afternoon, was confirmed in a TV interview he gave that evening, and by Friday, had caused a stir in the formerly Soviet republic, with controversial pro-Russian activist Vladimir Linderman calling his statement "a political trend" and accusing him of "propagandizing a certain ideology." Rinkevics said he was inspired to be open about his sexuality as Latvia considers recognition of same sex partnerships.  What's also notable about the timing of his coming out is that Latvia is about to assume a six-month rotating leadership of the European Union, which will greatly raise the profile of the country as well as Rinkevic, who aims to campaign for legal status of same-sex partnerships.
While coming out via Twitter has become popular for some American celebrities, this seems to be the first time a major foreign official has used the social media service to do so. Rinkevic's announcement makes him the only out official in the Latvian government. 
[photo via screenshot]