Mexico City lawmakers approved a groundbreaking trans rights bill on Thursday allowing trans people to legally change their gender without a court order, reports Michael Lavers at the Washington Blade: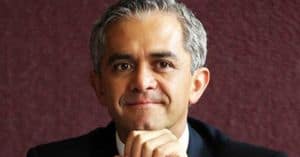 Members of Legislative Assembly of the Federal District, in which Mexico City is located, approved the measure by a 42-0 vote margin.
Six lawmakers abstained from the vote on the measure that Mexico City Mayor Miguel Ángel Mancera (pictured) proposed. Manuel Granados Covarrubias of the Party of the Democratic Revolution, known by the Spanish acronym PRD, welcomed the proposal's approval.
The progressive mayor, as you may recall, married 26 gay couples in a mass wedding in July 2013.
The bill's approval came following a campaign by The Mexico City Commission to Prevent and Eliminate Discrimination and is the first such law in Latin America, according to the Blade:
The Mexican capital's comprehensive anti-discrimination law already includes gender identity and expression and designates transphobia as a form of discrimination.