Following yesterday's Sixth Circuit ruling upholding Michigan's ban on same-sex marriage, Governor Rick Snyder and Attorney General Bill Schuette announced their plans to continue to defend the ban in court.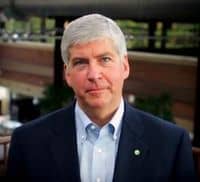 MLive reports:
"When I became governor, I took an oath to support and defend our state constitution, without exceptions," Snyder said in a statement, referencing the 2004 voter-approved amendment that defined marriage as between one woman and one man.
"My obligation to carry out that oath is not a matter of personal preference. As I have said throughout this process, I will respect the court's decision as it examines the legality of same-sex marriage."
The ACLU has pledged to appeal the Sixth Circuit's decision directly to the Supreme Court.