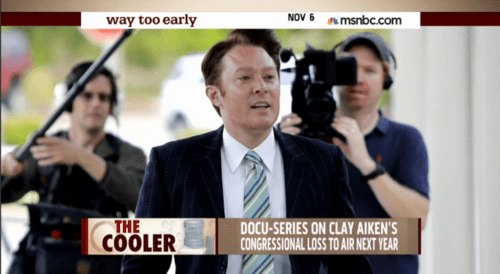 An Esquire documentary on Clay Aiken's bid for a North Carolina congressional seat, announced shortly after Aiken conceded the race to incumbent Renee Ellmers on Tuesday, reportedly caught some Los Angeles donors off-guard who are now asking to be removed from any footage used in the series.
FrontiersLA reports that actor/producer Steve Tyler, who helped organize one of the big Aiken fundraisers in LA, says he's received angry calls about the announced documentary from friends who attended the fundraiser. 
In an email sent to Aiken, Tyler wrote in part:
Again, I am sorry for the loss on your bid for Congress, but apparently you had yourself covered with a reality TV show deal the entire time, just in case you didn't win.  I cannot speak for the NC Voters or contributors, but I can speak for myself and many of your Los Angeles supporters when I say we feel duped, taken advantage of and lied to.  When we were asked to sign waivers by your film crew, we were told it was for a BBC documentary that would not air here in the United States.  
 
I have received calls from many supporters at the LA fundraiser all demanding that the LA event not be included in your TV show, as the crew misrepresented use of the filming.  It is obvious you had this TV deal prior to the votes being tabulated as GOOD MORNING AMERICA announced the deal just hours after votes were barely in. 
The Hollywood Reporter adds:
The four-hour untitled docuseries, from Academy Award winner Simon Chinn (Searching for Sugar Man, Man on Wire) and Emmy winner Jonathan Chinn (American High), will premiere in the first quarter of 2015. The Lightbox duo have been filming from inside Aiken's campaign since his February candidacy announcement, through the May primary and Tuesday's final results.
Aiken, a gay Democrat and single dad, ran against incumbent Congresswoman Renee Ellmers in the predominantly Republican North Carolina 2nd District. Via strategy meetings, debate prep, town halls, bus tours and door-to-door canvassing, the docuseries  will provide an intimate look at the hope of victory and, ultimately, the disappointment of defeat.
"We were granted incredible access during the making of this documentary, and in turn were able to capture the internal workings of an American campaign — the good, the bad and the ugly," Simon Chinn said. Added Jonathan Chinn: "We're thrilled to be partnering with Esquire Network, who are tackling topics that are not only popular and entertaining but also smart and thoughtful."
Watch a MSNBC segment on the documentary, AFTER THE JUMP…