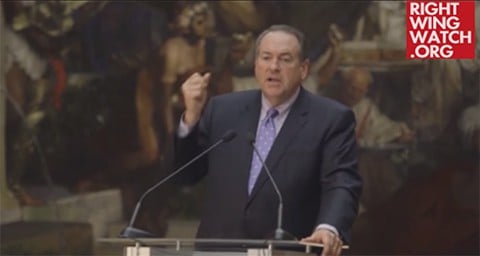 Former Arkansas Governor and likely 2016 Republican Presidential candidate Mike Huckabee has been on a tour of Europe entitled "Reagan, Thatcher, and Pope John Paul II Tour: God Raising Extraordinary Leaders for Extraordinary Times." As hate-monger Matt Barber notes, Huckabee invited "evangelical pastors from the states of New Hampshire, Iowa, South Carolina, and Nevada on special 10-day tour of Europe… to study the lives of Ronald Reagan, Margaret Thatcher and Pope John Paul II  and understand how these three individuals were 'used by God to change the world's history.'" So essentially, this is the Grand Tour re-imagined for right-wing wing-nuts.
Huckabee's final stop on this tour was to Auschwitz and Birkenau, which, as The New Civil Rights Movement points out, provided Huckabee the perfect opportunity to compare Nazi Germany and present day America. The horror that was Hitler's Germany was the natural by-product of "systematically [removing God and religion] from their culture and their society." Drawing a parallel to America, Huckabee said, "The soul of America is a sick soul… because it has forsaken and forgotten its God." How exactly has America forsaken and forgotten its God? By providing equality to the gays, of course:
"The foundation of our society and culture, marriage, not only by which we produce the next generation but it is the entity through which God has chosen for us to create the next generation and train them to be our replacements, and when we tinker with its definition and we decide that it can mean anything we wish for it to mean and that rather than to take a biblical perspective we will take a very human one and we will base marriage on human experience and desire as opposed to biblical standard, then I fear that we will pay the consequences for having upended the very foundation which is the essence of how a civilization survives. So the soul of America is in real trouble."
Governor Huckabee has obviously not seen how Biblical arguments against same-sex marriage and homosexuality can rather easily be debunked. 
The Arkansan seems hell-bent on continuing to prove worthy of Megyn Kelly's special pet moniker for him. Well done, Governor.
Watch Governor Huckabee's latest anti-gay diatribe, AFTER THE JUMP…