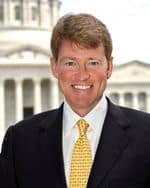 Missouri Attorney General Chris Koster released this statement following today's fuling from a federal judge striking down the state's gay marriage ban:
"The United States District Court for the Western District of Missouri today ruled that Missouri's ban against same-sex marriage violates the equal protection and due process guarantees of the United States Constitution. We will appeal the ruling to the Eighth Circuit Court of Appeals."
Earlier this week, Koster appealed a separate ruling striking down the state's ban which applied only to St. Louis.