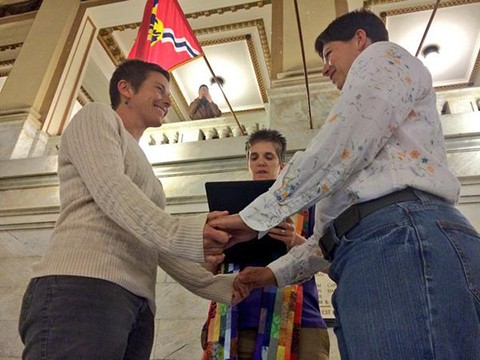 St. Louis remains the only city in Missouri to have begun issuing marriage licenses to same-sex couples following yesterday's ruling overturning the state's ban on gay marriage, the AP reports:
The president of the Recorders' Association of Missouri said the group was advising county officials Wednesday that the ruling by St. Louis Circuit Judge Rex Burlison applies only to that city and not the rest of the state.
Association president Jan Jones said she was following that advice in Johnson County and not issuing marriage licenses to same-sex couples. Officials in Boone, Cole, Greene, Miller, Osage and Jasper counties also said they weren't issuing the licenses.
Missouri Attorney General Chris Koster, a marriage equality supporter, appealed the case to the state Supreme Court but did not request a stay on the ruling.