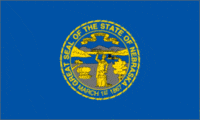 Next Monday, the American Civil Liberties Union of Nebraska plans to file a lawsuit challenging the state's gay marriage ban.
Omaha.com reports that in a recent email sent to "same-sex marriage supporters," Executive Director Danielle Conrad announced the suit, and that it will ask for same-sex couples to be able to marry in Nebraska, and also that out-of-state gay marriages will be recognized within Nebraska's borders.
This would be something of a landmark moment for nationwide recognition of same-sex marriage — as of right now, Nebraska is the only state without either same-sex marriage or a federal lawsuit seeking approval of same-sex marriage. In 2000, the state's ban, Nebraska Initiative 416, was passed with a staggering 70%. The text of the initiative reads:
Only marriage between a man and a woman shall be valid or recognized in Nebraska. The uniting of two persons of the same sex in a civil union, domestic partnership, or other similar same-sex relationship shall not be valid or recognized in Nebraska.
The names of the plaintiffs in the new ACLU suit have not yet been released.
Developing…