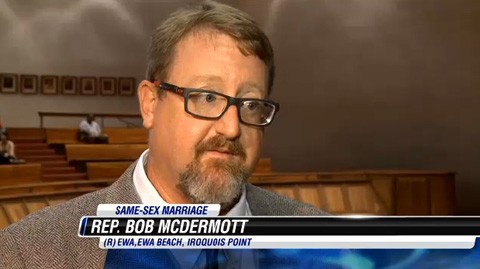 Hawaii's highest court will hear an appeal by state Rep. Bob McDermott, seeking to undo the state's gay marriage law.
You may remember McDermott from presiding over what Joe. My. God. calls "the most vicious anti-gay marriage hearings we've seen" — an anti-gay "citizen's filibuster" in the Hawaiian House of Representatives. 
Over a year ago, the Hawaiian senate passed the Marriage Equality Bill in a vote 20-4, legalizing gay marriage in the state. McDermott's argument says this ruling was invalid. He claims that on a 1998 initiative, Hawaiian voters misunderstood their ballots and intended to vote for a marriage ban rather than leaving the issue up to legislators.
This is not Rep. McDermott's first attempt to challenge the bill. He tried it in January of this year and failed.