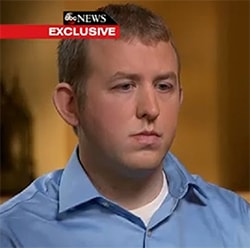 Darren Wilson talks to George Stephanopoulos about shooting and killing Michael Brown: "The reason I have a clean conscience is because I know I did my job right…I'm sorry that [Michael] lost his life. It wasn't the intention of that day, but it's what occurred that day. There's nothing you can say that would make a parent feel better."

Michael Brown's father, Michael Brown Sr., calls Wilson's remarks "disrespectful" and "crazy": "For one, my son, he respected law enforcement. Two, who in their right mind would rush or charge at a police officer that has his gun drawn?"

A lesbian couple challenging Michigan's same-sex marriage ban, a case that may reach the Supreme Court, just adopted their fourth child yesterday. 

Taylor Swift performs "Blank Space" (a.k.a. "Lonely Starbucks Lovers") on The Voice and makes one superfan's day. 

Meanwhile, Chris Pine croons like Sinatra for a fan on Ellen.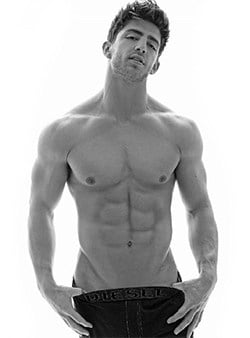 Speaking of Ellen, her hunky (former?) gardner Billy Reilich, smolders in a new photoshoot that puts his beefcake on display. 

Bette Midler backs off of Ariana Grande. 

Kevin Federline says that wasn't him. 

The first tiny teaser for Game of Thrones Season 5 has arrived and it's all about Arya. 

Former O-Town member Ashley Parker Angel strips down for OUT Magazine, talks playing Fiyero in Wicked on Broadway.

Jennifer Aniston pranks a BBC radio interviewer in a cringe-worthy video.

"Marlene Dietrich in a top hat" may be the best one on this list. 

Vending machines at bathhouses will offer HIV testing.

Love Is Strange, starring John Lithgow and Alfred Molina as a gay couple faced with homelessness in New York, picked up four Independent Spirit Award nominations including Best Picture.

Supermodel Miranda Kerr's gay brother is getting married. 

Feeling villainous? Watch inspired by retro James Bond films has laser attached that can cut through plastic. 

The Cambridges have a new family portrait.