President Obama will name Loretta Lynch, a federal prosecutor in Brooklyn, to succeed Eric Holder as the U.S. Attorney General, the NYT reports: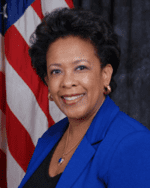 If confirmed she would be the first African-American woman to serve as the nation's top law enforcement official. She would also be a rare instance of Mr. Obama reaching outside his inner circle to fill a crucial post.
…Ms. Lynch first gained prominence for her work prosecuting members of the New York City Police Department for the 1997 beating and sexual assault of a Haitian immigrant with a broom handle. The case became a national symbol of police brutality.
As United States attorney for the Eastern District of New York, Ms. Lynch oversaw all federal prosecutions in Brooklyn, Queens, Staten Island and Long Island.
DaillyKos writes:
A possible complication to her confirmation—besides the fact that she would be the first African-American woman to hold the nation's top law enforcement position which would make for many exploding heads on the right—is that she has "led the prosecution of Rep. Michael Grimm, a Republican congressman from Staten Island, for alleged tax fraud." Grimm won re-election Tuesday, joining the ranks of indicted members of Congress.
More on Lynch in a NYT profile HERE.