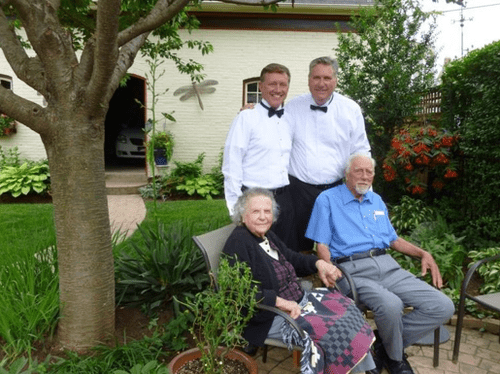 Retired 96-year-old Mennonite Pastor Chester Wenger of East Lampeter Township found his credentials dismissed on September 10 after the Lancaster Mennonite Conference discovered Wenger officiated his gay son's wedding on June 21 reports LancasterOnline. Pastor Wenger addressed the church and its decision in an open letter to The Mennonite, a Mennonite Church USA publication.
Wenger said:
"My dear companion of 70 years and I declare our enduring love for Lancaster Mennonite Conference, for the Mennonite Church, for the Meserete Kristos Church and for all God's people. We carry no bitterness or regret for our actions. Our hearts are filled with love for all."
"I know persons will accuse me for my transgression, but my act of love was done on behalf of the church I love, and my conscience is clear."
L. Keith Weaver, a moderator from the Lancaster Mennonite Conference, said in an email that the credentialing commission terminated Wenger's retired ministerial credentials after Wenger violated a Mennonite Church USA guideline that states, "Pastors holding credentials in a conference of Mennonite Church USA may not perform a same-sex covenant." The ceremony in question was held in the couple's backyard with a small handful of guests, and not in a Mennonite church reports LancasterOnline.
The ruling is raising discussions about church leadership regarding the ruling with Erin Stutzman, Executive Director of Mennonite Church USA, weighing in on the process of the church's decision making processes.
Stutzman wrote:
The differences in the Constituency Leaders Council largely reflect the variety of leadership practices within the 21 area conferences across our church who currently hold the credentials for their leaders. They do not all agree on what it means to be recognized as a minister across Mennonite Church USA, not just within the confines of a local church or area conference.

Many believe that while area conferences have authority to grant leadership credentials, they must do so in keeping with the written agreements made on the national level. In the current environment, that will affect the credentialing policies for persons who perform same-sex unions, or who are part of such a union. Others believe that area conferences should have freedom to interpret national polities as guidelines, not rules that govern practices regarding same-sex unions.
The Virginia Mennonite Conference ordained Wenger in 1949, at the request of the Lancaster Mennonite Conference for his missionary work in Ethiopia where he founded the Bible Academy of Nazareth. There he was the first elected chairman of Ethiopia's Meserete Kristos Church, which is now the largest Mennonite church in the world. Pastor Wenger's service with the church spans 65 years.
Pastor Wenger's son, Phil Wenger who wed longtime partner Steve Dinnocenti in June, remarked he would have never asked his father to officiate at the wedding had he known the consequences.
Watch Phil Wenger's interview with WGAL Channel 8 news, AFTER THE JUMP…