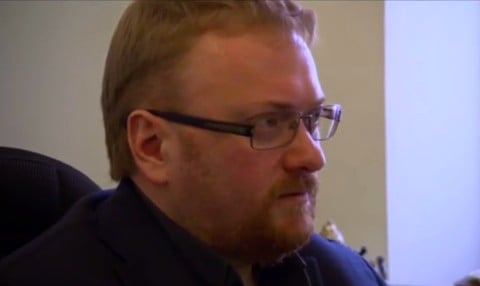 St. Petersburg, Russia, lawmaker Vitaly Milonov (above) wants to put people in jail if they promote so-called gay propaganda. 
But a member of Russia's upper house of parliament says Milonov himself should be jailed for his extremist behavior.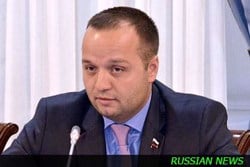 Russian Senator Konstantin Dobrynin (right) has requested both a criminal investigation and psychiatric testing of Milonov — a raging homophobe who was one of the architects of the country's anti-gay law, the St. Petersburg Times reports: 
Milonov, who is also a church sexton, has been photographed wearing a T-shirt that read "Orthodoxy or Death" — a slogan banned in Russia as extremist. He was also pictured with knives and firearms during "humanitarian missions" to pro-Russian rebels in eastern Ukraine, Dobrynin wrote.

Additionally, the flamboyant lawmaker has denounced various nationalities, including Ukrainians and Crimean Tatars, whom he described as "crazy goats," "pigs" and "fascist Turkish mugs," Dobrynin said.

All of this qualifies Milonov for a total of 11 criminal charges, including promoting terrorism and illegal firearms possession, the senator said. The charges carry a combined sentence of up to 20 years in prison.
It's not the first time Dobrynin has sought criminal sanctions against Milonov, but on two previous occasions the prosecutor general declined to pursue charges. according to Russia Today. Milonov responded to Dobrynin's latest request by comparing the senator to Judas: 
"For him, everything in Orthodox Christianity is extremism. I don't want to notice this man," the politician told RSN radio. "I cannot take this seriously. I have issued a personal spiritual ban for this man. He has probably written more reports on me than Judas had on Christ," the news site Gazeta.ru quoted Milonov as saying.
Milonov authored the St. Petersburg measure that was used as a model for Russia's national anti-gay law — and he later called on President Vladimir Putin to enforce the law during the Sochi Olympics.  
More recently, Milonov said he was drafting a bill to close a loophole that allowed same-sex couples to marry in Russia. And after Tim Cook came out, Milonov called for the Apple CEO to be banned from Russia for life, even though he uses Apple products. 
In other words, he's kind of like Russia's version of Ted Cruz.