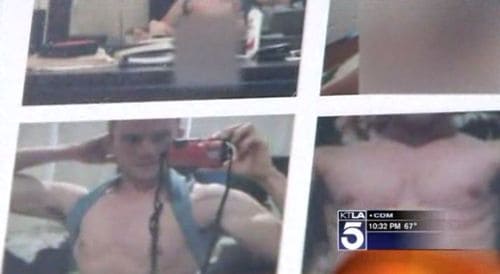 A scorned ex-boyfriend of a Pasadena-area high school teacher is in police custody after allegedly hacking his former partner's work email account to send nude photos to over 250 students, teachers, and staffers in the district, The Los Angeles Times reports:
David Galvan, 38, was arrested on suspicion of unlawfully accessing science teacher Richard Rosa's school district email account and sending the photographs on July 10 while the teacher was out of the country.
The email, with the subject line "Enjoy," contained four nude photographs of Rosa.
The motivation: Galvan was angry about their relationship ending, according to police Lt. Terysa Rojas.
The paper adds that a student has started an online petition to save Rosa's job, despite district officials saying Rosa would not be fired over the photos. 
CBS Los Angeles provides further background on the case:
On July 24, 2014, a complaint was filed with the LA County DA's Office, which issued a $110,000 arrest warrant against Galvan for false impersonation, identity theft, internet/electronic impersonation and obscene matter. The first two counts involve felonies, while the second two are misdemeanors.
Officials said Galvan learned he was wanted by police and that he fled to Oregon.
With the assistance of the U.S. Marshal's Office, Galvan was detained Oct. 21 in Hillsboro, Ore.
Watch a news report on the story, AFTER THE JUMP (warning: autoplay)…