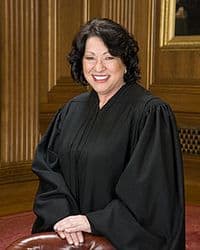 Justice Sonia Sotomayor has issued a stay on the ruling overturning Kansas gay marriage ban until "further order" by Sotomayor or the full Supreme Court, SCOTUSblog reports. 
Earlier today, Kansas Attorney General Derek Schmidt had asked  Sotomayor for an emergency stay on Judge Daniel Crabtree's November 4 ruling that was set to go into full effect 5pm tomorrow. 
Sotomayor has asked same-sex couples to issue a response to Kansas' request for a stay pending appeal by 5pm tomorrow. 
Here's Sotomayor's order: