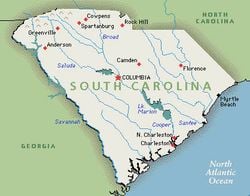 Gay couples can begin marrying in South Carolina on Thursday at noon after the Fourth Circuit Court of Appeals rejected the state's request for a stay.
Last week after Gergel struck down the ban, Attorney General Alan Wilson filed an emergency stay request asking for the court's order to be halted pending an appeal to the full Fourth Circuit, or, if denied, the U.S. Supreme Court.
Attorneys for plaintiffs Colleen Condon and her fiancee Nichols Bleckley filed their response to Wilson's request late Sunday.
Wrote the Court in today's order:
"Upon consideration of submissions relative to appellant's motion for stay pending appeal, the court denies the motion and denies the alternate request for a temporary stay. Entered at the direction of the panel: Judge Traxler, Judge Motz, and Judge Thacker."
The stay imposed in U.S. District Court Judge Richard Gergel's original ruling expires on Thursday at noon.