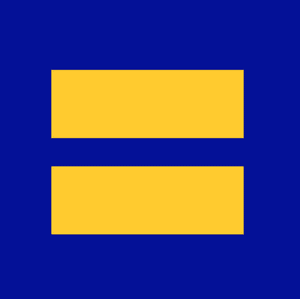 The Human Rights Campaign issued a press release today that contained results from a study they conducted on the National Organization for Marriage's funding and found the organization is rapidly losing support. HRC examined NOM's tax filings from 2013 and found that the organization's funding for the year dropped a whopping 50 percent from 2012, raising only $5.1 million in funds this year. Only two donors account for donating half of those funds alone, which indicates NOM's support base merely consists of a very few wealthy people and a minuscule amount of the general public.
The NOM Education Fund also dropped nearly $3.5 million in funding; a drop of almost 70 percent since the previous year. NOM ended the year more than $2.5 million in debt. Fred Sainz, the HRC Vice President of Communications, urges NOM to give up the ghost already.
Said Sainz:
"If I were Brian Brown, I'd be worried that my two or three mega-donors are soon going to come to terms with the fact that they'd largely be better off flushing money down the toilet.  Americans certainly aren't buying what NOM is selling, and it's only a matter of time before the trickle of money keeping the lights on at NOM HQ dries up."
NOM fought to keep their 2013 990s secret however, HRC made an in-person request for the public financial documents on Monday morning and again Tuesday – in both instances, NOM didn't produce the documents. Federal law requires organizations to publicly release their 990s the same day an in-person request is made. HRC filed a complaint with the IRS in order to force NOM to abide by the law. 
Within the last year NOM suffered crippling blows to its core purpose and mission with the number of states allowing gay marriage jumping from 15 to 33 states, with 62 percent of the nation's population living in states that allow same-sex marriage. Both Democratic and Republican appointed judges are striking down marriage bans and the Supreme Court of the United States judges decreed that federal court rulings granting marriage rights to same-sex couples to become the law of the land in 11 states in the last two years: California, Oregon, Idaho, Nevada, Utah, Kansas, Oklahoma, Wisconsin, Indiana, Virginia and Pennsylvania.
Recent poll results show that NOM's radical and exclusionary brand of anti-LGBT rhetoric is falling on deaf ears. An HRC survey of 1,200 registered voters conducted June 6-10 this year by Republican pollster Alex Lundry of TargetPoint Consulting, found that the number of Americans strongly opposed to national marriage equality dropped to 28 percent. Of the people polled, only three percent would challenge the Supreme Court of the United States judges if they struck down marriage bans across the country.
NOM President Brian Brown, realizing his organization is becoming obsolete in the states, took his rhetoric to Russia to support a bill – now law – banning the adoption of Russian children by same-sex couples or parents living in countries where marriage equality is legal. Although Brown would experience success in Russia, NOM's death knell is ringing loud and clear here in the states, but the organization continues to shuffle on like an undead zombie; aimless and spouting incoherent nonsense.