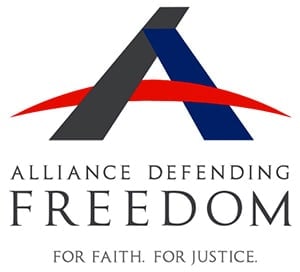 The Alliance Defending Freedom is perhaps best known in the US today for its work defending the right of businesses to discriminate against LGBT people under the guise of "religious liberty." But Media Matters reports that despite ADF's frequent characterization in the media as a mainstream Christian legal group, it is actively promoting a far more extreme agenda overseas: namely, putting gay people in jail.
ADF's support for the criminalization of homosexual activity dates back to the early 2000s, prior to the U.S. Supreme Court's 2003 decision striking anti-sodomy laws as unconstitutional in Lawrence v. Texas. The ADF submitted a 30-page amicus brief in that case, writing:
"The issue under rational-basis review is not whether Texas should be concerned about opposite-sex sodomy, but whether it is reasonable to believe that same-sex sodomy is a distinct public health problem. It clearly is."
In fact, ADF believes that the legalization of homosexual activity in the US has paved the way for same-sex marriage — which is presumably why the group is now working so hard to defend anti- sodomy laws in places like Jamaica, Belize and India, Media Matters reports:
ADF has given up on promoting anti-sodomy laws in the U.S. after Lawrence, but the group still aggressively supports imprisoning gay people around the world for having sex. It's an ugly truth about one of the right's highest-profile legal organizations. Failing to note ADF's support for anti-sodomy laws — which places it firmly on the fringe of even conservative circles — paints a grossly misleading picture of the extremism that motivates the group's anti-gay legal work.
Indeed, spotlighting ADF's efforts to criminalize sodomy overseas seems more important than ever. While the National Organization for Marriage reported a 50 percent decline in donations in 2013, ADF reported an increase of $2.5 million — for a total of $39 million, according to Towleroad's analysis of newly released IRS reports. And thanks to the prevalence of anti-gay bakeries and "license to discriminate" legislation, it's likely that amount will only go up.