A government committee in Uganda has drafted a new anti-gay law, one that has the potential to be even more draconian than the country's (now-invalidated) Anti-Homosexuality Act.
The Guardian reports:
According to a leaked copy of the new draft law, MPs have instead focused on outlawing the "promotion" of homosexuality – a potentially far more repressive and wide-reaching measure.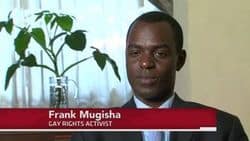 Frank Mugisha [pictured], a gay-rights activist, said: "People don't realise that the 'promotion' part of it will affect everybody. If newspapers report about homosexuality it could be seen as promotion. My Twitter account could be seen as promotion. All human rights groups that include LGBT [lesbian, gay, bisexual, and transgender] rights defence in their activities could be accused of promotion."
According to the draft, anyone convicted of "promoting" homosexuality would be liable to seven years in prison. "We have confirmed that the draft comes from the cabinet. Their plan is to present it to parliament as soon as possible, before the end of the year," Mugisha said.
"They have just twisted the language but it is the same thing. It's actually worse because the 'promotion' part is harsher and it will punish the funding of LGBT and human rights groups."
In an editorial published earlier this month in Uganda's leading newspaper, president Yoweri Museveni warned that the country would be devastated by trade boycotts should lawmakers pursue additional anti-gay legislation. 
Check out the draft legislation below: