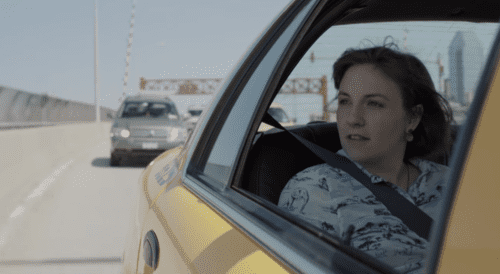 Hannah heads to the Iowa Writers Workshop in what looks to be a very unusual season for the previously NYC-based HBO hit Girls.
In a trailer for the show's new episodes, released today on HBO's website and YouTube, Lena Dunham facetimes with former roommate Marni, navigates long distance drama with Adam, and moshes with shirtless gay bestie Elijah who claims "Iowa is amazing!" Set to a bouncy song by Nico Vega, it all certainly looks like fun, especially with the shirtless and fit post-Hedwig Andrew Rannells. The only real plot spoiler seems to be Jessa being arrested by the NYPD, but given her previously insane behavior this looks more par for the course than anything that surprising.
Season four kicks off Sunday January 11th only on HBO…or not, per the recent announcement the cable channel will start offering an all-digital service starting sometime in 2015.
You can watch the full trailer AFTER THE JUMP…