Jake Gyllenhaal's got something to sell – "I think you'll want to see this"  
It would be disingenuous to claim that Jake Gyllenhaal is unrecognizable in NIGHTCRAWLER. It's hard not to commit Gyllenhaal to memory once you've seen him. But it would be true to say that he is less recognizable in Nightcrawler. The effect is not unlike the rubberneck squinting at the new Renée Zellweger, trying to place the differences that unsettle you. The actor dropped 30 lbs to play his new character and lived on the night shift to prepare and it wasn't for the strenuously faux-noble reason of biographic fidelity. It must be method madness that led him to burrow into this altogether terrific star turn as Lou Bloom, a gaunt sleepless thief turned "journalist". The big difference with this Gyllenhaal is in the eyes. Those big impossibly romantic orbs have lost all their soft blueness. They're suddenly bulging from their skull, like they want to escape it. Or like they're planning to hypnotize you while the mouth delivers its mechanical sales pitch.
And with Lou Bloom, the sales pitch never stop. The night owl approaches each conversation like it's a job interview, checking off catchphrases and talking points from his mental checklist. This is all well and good for the film's first reel when Lou is trying to find a job. But when he chances upon an accident one night and sees nightcrawling freelancers filming it, the search is over; he makes it his mission to join this profession. It's here where his can-do "I'm a hard worker" salesmanship begins to ferment and spook.
CONTINUED, AFTER THE JUMP…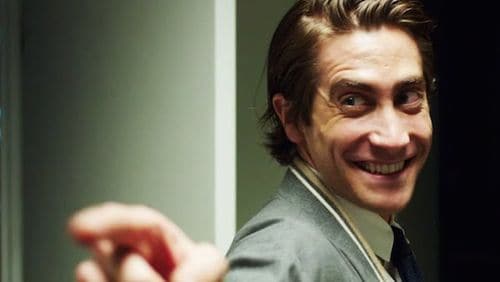 Even after he finds quick success he continues to sell himself or ideas he's sucked up from a rival (Bill Paxton in typically sleazy mode), or a particular POV. There is nothing he won't do to learn the ropes, be first at the scene of a crime or accident, to get the most frightening and bloodiest images on tape.
He devours advice from an amoral local news programmer Nina (Rene Russo) working the night shift. Her fear-mongering lessons like "If it bleeds, it leads" he instantly digests in his efforts to become the best in his grisly profession. [SPOILER]. In one of the film's most chilling early moments, we realize he'll do anything for a good shot dragging a wounded body — the kind you're not supposed to move, naturally — just so for a shot. The videographer isn't above breaking and entering or disrupting a crime scene for the right footage either [/SPOILER]. Lou doesn't blink at bending rules. In fact, he doesn't blink at anything. Maybe Jake used up all his blinks with his tic filmed performance in Prisoners (reviewed here) because Lou's eyes never close; they're perpetually wide open, like nothing can escape their soulless surveillance.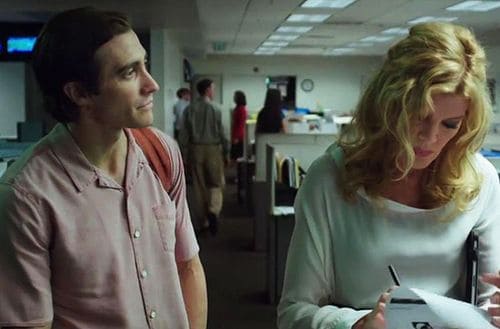 Nightcrawler is likely to be interpreted as a satire of the news media but isn't really that. It's closer to docudrama if you take the news as its subject. If you've watched your local news or Fox News, lately, you've surely already noticed the fearmongering and sensationalism. The movie doesn't seem remotely "heightened" around this subject. But it's got enough stylistic verve with great digital cinematography and the omnipresent void of its inky black nights, that you can feel it reaching for something that's a much harder target to hit. Perhaps its true subject is vampiric capitalism, where feeding off the desperation, fear, blood and pain of others is how you crawl, no… slither to the top of the food chain.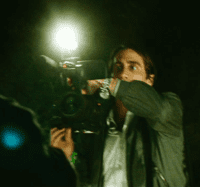 Though Nightcrawler is tensely edited and short enough to work well as a thriller, it doesn't quite linger like it should. It spends too long on a subplot about Lou's clueless "intern" (Riz Ahmed, nominated for a Gotham Awards "Breakthrough" prize) which doesn't have as strong a payoff as it seems to think. The ending makes thematic sense but feels abrupt. But so what if it doesn't quite reach greatness? At least it's reaching! So few movies have ambition and though Lou has a very disturbing definition of "good people" he does have a point when he sells commitment and ambition:
I'm a hard worker. I set high goals and I've been told that I'm persistent. What I believe is that good things come to those who work their asses off. And that good people who reach the top of the mountain didn't just fall there." 
Lou may be a sociopath but he is persistent and inarguably committed to his warped point of view. So, too, is Nina. Rene Russo's steely performance will make you curse those Thor movies which always leave her standing majestically in the background with virtually nothing to act. Lou & Nina are fascinating from beginning to end with the two actors delivering must-see performances, the kind that Oscar nominations were meant for. This is especially true in their electric scenes together, which are more and more tightly wound as the movie escalates. Watch them negotiate –  two vampires hoping to feed off each other without spilling their own blood.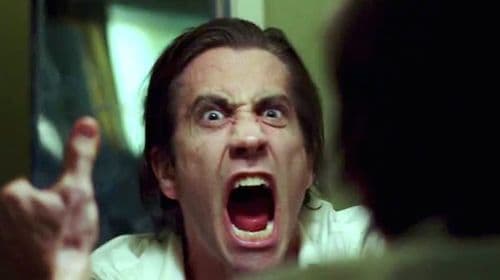 Nathaniel Rogers would live in the movie theater but for the poor internet reception. He blogs daily at the Film Experience. Follow him on Twitter @nathanielr.