Zachary Quinto is prominently featured in OUT magazine's OUT 100 issue, where he is listed with the honor of Artist of the Year.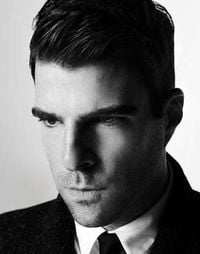 In one part of the profile for the issue, Quinto talks HIV and PrEP, and he has some stern words. Here is a condensed quote, via HuffPo:
AIDS has lost the edge of horror it possessed when it swept through the world in the '80s…Today's generation sees it more as something to live with and something to be much less fearful of. And that comes with a sense of, dare I say, laziness…[On PrEP,] We need to be really vigilant and open about the fact that these drugs are not to be taken to increase our ability to have recreational sex…There's an incredible underlying irresponsibility to that way of thinking…and we don't yet know enough about this vein of medication to see where it'll take us down the line.
Check out the full text of the interview, over at OUT, where Quinto also talks Oscar Wilde and coming out. His comments might lead to some charged conversations, but as OUT points out, it's "disorienting" as well as thrilling "to hear a celebrity speak so passionately about divisive issues in the LGBT community"