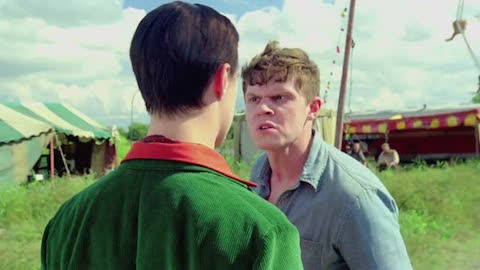 Now that was more like it! Not a perfect episode, but the latest installment of AHS: Freak Show, "Tupperware Party Massacre" had a few things really going for it.
For starters, it upped both the blood and guts, as well as the body count. It may sound macabre, but for a show with "horror" in the title, they've got to bring the darkness. Our villains — Stanley and Dandy — are also becoming more legitimate threats. They still lack the menance of Twisty or the Rubber Man, but now they've got larger plans at play to drive us toward a high stakes conclusion to their arcs.
Plus, we got to see Evan Peters' and Finn Wittrock's butts. No complaints here.
Let's discuss what went down in last night's episode, AFTER THE JUMP …
Dandy (Wittrock) has a lot of feelings he needs to work through, so he turns to Maggie (Emma Roberts) for a little spiritual guidance. He's been so busy killing his mother and that nice Avon lady who stopped by (and then sewing the latter's head onto the former's body in a weird homage to the Tattler sisters), he just hasn't really had the time to reflect, you know? Luckily, Maggie/Esmerelda eases his worried mind by reassuring him that #ItGetsBetter. He tips her a Benjamin, and whistles on out the door.
That's when he catches the attention of Jimmy (Peters), who has been mourning the loss of his mother over a bottle or 10 of booze. He hears Dandy whistling away on the campgrounds and runs to confront him. Unfortunately, he's a stumbling, stammering mess of a woo-girl wasted. When he goes to take a swing at Dandy, he misses and crumbles to the ground. That's where Dandy leans in to tell him that he will get his revenge, before leaning in to kiss him passionately on the mouth. (Just kidding on that last part.)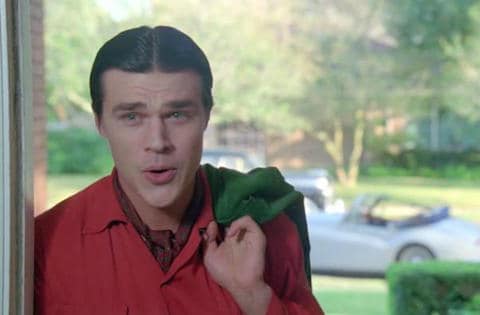 Step one on Dandy's plan is to take down Jimmy's army of skanks alternative source of revenue. When Jimmy's too drunk to service the housewives at the Tupperware party, Dandy steps in, faking car troubles. This, predictably, does not end well for the ladies. The hostess' hubby comes home to find the whole party floating in a bloody swimming pool. It is an unpleasant sight, to say the least.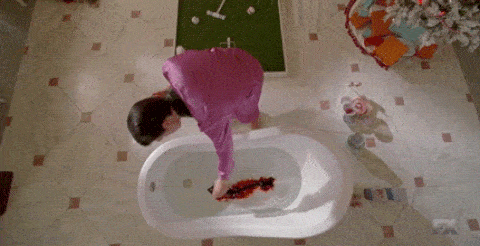 The convenient thing about being a psychopath fixated on bathing in blood who just happened to slaughter an entire Tupperware party is that there are plenty of containers to take home leftovers. Dandy packed up a few pints of blood to take home and fill the tub, but, as he drew his bath, Regina (Gabourey Sidibe) arrives. She tells him that she has gone to the police and they will find Patti LaBelle. Dandy assures her that they will definitely not, since he killed her. And his mother. And a bunch of other ladies. Not crazy enough? Well, wait until you hear him wax poetic about how he's a god and living his destiny. And one more thing, why don't you jump in the bath with him? He tries to tell her that she is the only one worthy to keep him company, but, when she's less than comfortable with all this new information, he lets her go. Bold move, Dandy.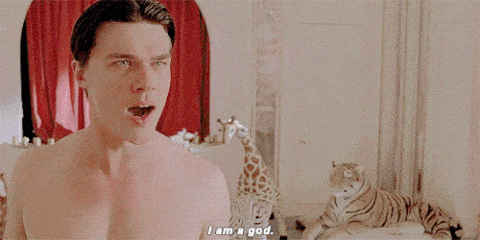 Regina, of course, returns with the cops. That's no trouble for Dandy, who launches into quite a little speech about how he is filthy, filthy rich and will pay that cop a cool million smackers to work for him right now. Without hesitation, the cop turns and shoots Regina right in the head. I'm sure Ryan Murphy would love viewers to extrapolate some kind of social commentary out of all this, but, I'm sorry, that is a much more serious conversation fit for a much, much better television show than this hot mess. R.I.P., Regina! Say hi to Patti LaBelle for me!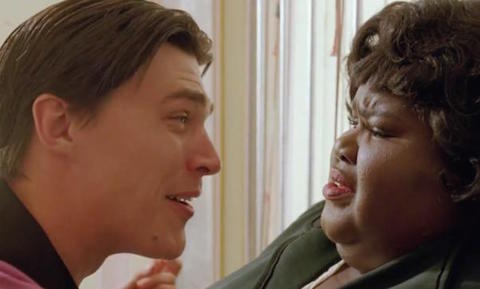 While Regina was busy searching for Patti LaBelle, the rest of the performers were still searching for Bette and Dot (Sarah Paulson). Maggie and Desiree (Angela Bassett) go traipsing around the tents, where first they encounter Des's old beau Angus (Malcolm Jamal Warner, a.k.a. Theo Huxtable) and then Jimmy giving the business to Ima Wiggles (Chrissy Metz). Maggie does not take this well.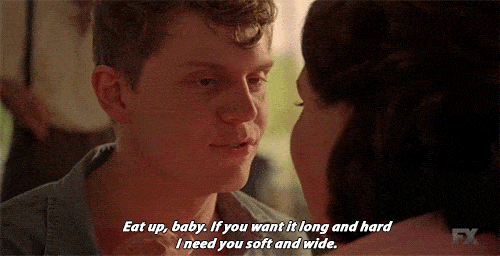 Then there's Dell (Michael Chiklis). He's still mourning the loss of his love, Andy (Matt Bomer). On top of that, he's still feeling guilty about offing Ma Petite (Jyoti Amge), and Stanley (Denis O'Hare) is still blackmailing him. Well, not just blackmailing him. He also confronts Dell late at night and masturbates in his general direction. We see Stan whip it out in front of Dell, much to Dell's surprise and apparent disgust. Most folks are assuming Stanley's absurdly hung, but I feel there's a lot more wonder/surprise in people's reactions for it just to be that. (You'd think they'd just be like "#blessed.") Anyway, this is pre-Internet and therefore I guess folks have seen a lot fewer massive members, so who knows.
Overcome with all these feelings, Dell attempts to take his life. Haunted by the ghosts of Ma Petite and Ethel (Kathy Bates), he attempts to hang himself, only to be saved by Desiree.
That Stanley has been awful busy. When he wasn't waving his willy at Dell, he was convincing Elsa (Jessica Lange) to go find and separate those twins. He explains to her that if they get their wish to be separated, they won't be of interest and thus will no longer be competing with her for attention. They find the twins at a motel and tell them they've contacted a doctor to perform the surgery. They'll just have to hang out at this totally legit and not at all suspect barn for a few days. Cool? Cool.
That Stanley though always has a plan. He's not planning on separating them. He's planning on having his trick pretend he's the surgeon and then, instead of knocking them out for the procedure, they'll just go ahead and euthanize them. Easy peasy.
Exceeeeeept, the sisters have a little heart to heart. Bette talks about how they've overcome so much together and loved each other so much and if they have to pick one of them to live, she wants them to pick Dot. Then Dot's heart grows three sizes and she realizes she doesn't want to risk losing her sister, even if it means losing her freedom.
The sisters make their way back to the campground from the sketchy barn and wait in Jimmy's trailer. Once he stumbles in, Dot makes her pitch about loving him and giving him two wives for the price of one and how they understand each other, etc. and so on. Through tears, they explain that Bette can close her eyes and sort of disappear while Jimmy and Dot make with the topless kissy. But before things get too hot and heavy, Jimmy tells them that he's in love with someone else.
As if it couldn't get any more complicated for darling Jimmy Darling, Dandy's cop and his fellow officers show up to arrest Jimmy for murdering all those Tupperware ladies. You think he'll have more luck than Meep?
What did you think of last night's episode?