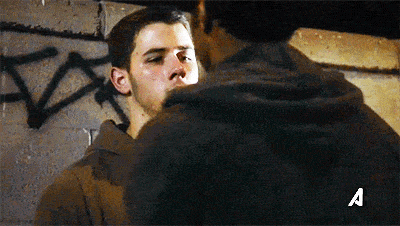 After months of teasing, strip teasing, and possibly even a little bit of queerbaiting, Nick Jonas finally gave his gay fans more than just lip/ab service for last night's season finale of DirecTV's MMA drama Kingdom. In the episode it's revealed Nick Jonas' character Nate Kulina is gay, with Nate getting kicked out of a gay bar and hooking up with another guy.
BuzzFeed reports: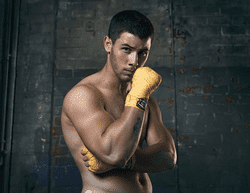 The reveal may have surprised viewers, but the actor has known about Nate's sexuality since Day 1. "Byron [Balasco, Kingdom creator] told me before shooting began," Jonas told BuzzFeed News exclusively during a recent phone interview. "Everyone at Kingdom was really transparent about the character and some of the things the character would go through. And in my prep work, I wanted to be aware so I could properly tell this story."
"For me, it was important to maintain the stakes for Nate," the 22-year-old actor and singer continued. "He lives in a world of fear — fear of disappointing his father, both in the cage and outside of the cage — and he carries that pressure with him in so many ways. I think it's something a lot of people can relate to."
For Balasco, having a gay character in the MMA world was particularly important. "I wanted to tell this story in an environment that would be, perhaps, extra challenging for a gay man," the Kingdom creator told BuzzFeed News. "Really show somebody who is struggling with this part of his life and reconciling it with the combination of what it takes to be an elite level athlete and how that concentration makes you to block out and ignore real questions that you have about yourself and about the life you're living."
Head over to Buzzfeed here to for more on the news and Nick's thoughts on filming a gay love scene for a future episode.
And check out three more gifs from Nate's late night romp, as well as a scene from earlier in the season that teased Nate's sexuailty, AFTER THE JUMP…