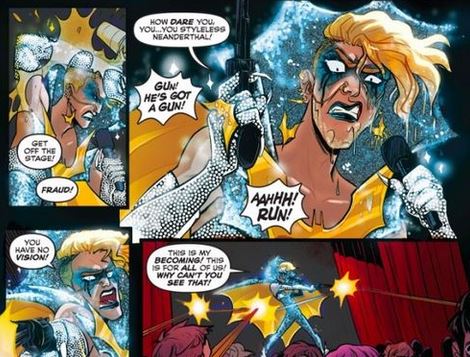 Cameron Stewart, Brendan Fletcher, and Babs Tarr – the team behind DC's most recent run of Batgirl - have issued a formal apology to their fans following swift backlash to a recently introduced queer character. Issue #35 of Batgirl made waves earlier this year for its distinctive shift away from some of DC's other bat-titles.  Stewart, Fletcher, and Tarr took the title in a new art direction, focusing on stories appealing to a broader female audience, and bringing a much more playful tone to the previously grim series.
Alysia Yeoh, Barbara Gordon's roommate was revealed to be transgender, and many readers commended the new Batgirl's team for broadening Gotham's portrayals of queer characters as being members of everyday life.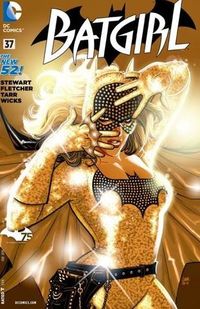 Issue #37 of Batgirl introduced a sequin-encrusted version of the titular hero who was revealed, after a public fight with the original Batgirl, revealed to be the cross-dressing villain Dagger Type. Many fans of the series interpreted Dagger Type's outing as being transphobic; after Dagger Type's biological sex is revealed, they are laughed at and booed by an onlooking crowd. Batgirl's decision to portray Dagger Type as a mentally unhinged man experimenting with gender presentation is part of a long line of stories that play on the idea of gender non-conformity being evidence of madness.
"Murderous or deceptive men disguising themselves as women has been a trope in fiction long before the creation of cinema, and it's shown up too many times to list or even count,' wrote Rachel Stevens of Women Write About Comics. "The trope isn't even subverted here, which is the hell of it."
Brendan Fletcher took to Twitter to post a letter from himself and the rest of the team expressing their regret the story's impact.
"We could go on all day about our intentions for the issue and the character of Dagger Type, and what our goals were and weren't," the letter reads. "But our intentions to not invalidate the legitimate reactions that some have had to this story. Those reactions are honest and heartfelt, and exist regardless of our creative intentions, and we don't wish to dismiss them."
"Instead, we want to acknowledge the hurt and offense that we've caused, and express our sincerest apologies. We're all deeply troubled by the reaction to this issue and have made it a point of serious discussion amongst ourselves. While we expected a degree of controversy in regard to the issues of identity and the artistic process that this story was meant to evoke, we do now realize that our presentation of this character was flaw., for any elements whatsoever of the story to have reminded readers of the sordid and misguided tropes that associate both drag and gender expression with duplicity."
"We deeply regret upsetting readers who placed their trust in us. But were indebted to those who stand up to speak out about their perspective on stories like this their commentary leads to universally better storytelling, from both ourselves and others, and we hope to live up to that standard in the future."