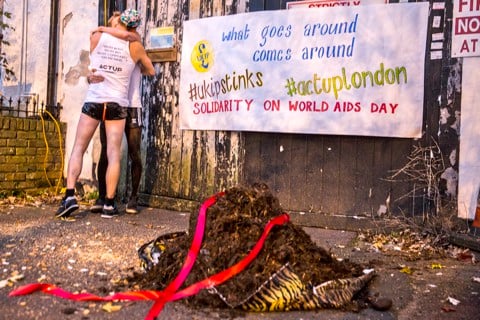 ACT UP: London is back, and they aren't taking any more B.S. 
Activists from the AIDS Coalition to Unleash Power say they dumped half a ton of cow dung outside the UK Independent Party's South London headquarters on Monday, in response to statements by UKIP leader Nigel Farage that people living with HiV should be barred from migrating to Britain.  
Gay Star News reports that the World AIDS Day action symbolizes a resurgence for ACT UP: London, which has been less visible over the last 10 years. 
Activists adorned the "fresh and steaming" pile of crap with a red AIDS ribbon and also hung a banner saying "what goes around comes around." 
ACT UP's Gary Hunter said: 
"We've had enough of UKIP's misinformation and offensive attacks on minorities. We wanted to show Farage that people living with HIV aren't going to take his B.S. any longer – so we've returned it. The vile crap that UKIP keeps spreading stigmatises and ostracises people living with HIV, gay people and immigrants. We thought this steaming pile of muck was a great representation of what we, as HIV-positive people, think of UKIP's agenda."
Earlier this year, when asked what types of people should be allowed to migrate to Britain, Farage told Newsweek Europe:  
"People who do not have HIV, to be frank. That's a good start. And people with a skill."
The U.K. has never barred immigrants with HIV, even at the height of fear and stigma in the 1980s. Only 12 percent of countries currently deport people with HIV, and the US lifted its HIV travel ban in 2009. 
Farage is not the only member of UKIP to make homophobic comments of late. Earlier this year, UKIP suspended its councillor David Silvester after he said flooding that hit the UK in December and January was caused by same-sex marriage. And last month, the former deputy leader of UKIP, Lord Christopher Monckton, said gay people lead a "deathstyle" and have up to 20,000 partners in their "short, miserable lives." 
ACT UP activist Mario Azeitona said: 
"UKIP keep saying that they speak for ordinary British people, but the vast majority of people totally reject their poisonous views. We are sending a message back to them that they do not represent the Britain most of us know – based on respect, solidarity and community. We hope others who've been targeted by UKIP follow our lead so that wherever Farage goes he meets people rejecting his crap and returning it to him. UKIP stink, so Farage better get used to the smell of his own B.S."
Watch ACT UP activist Dan Glass explain the protest in a video, AFTER THE JUMP …