Some additional follow-up from Chris Johnson at the Washington Blade regarding Senator Jeff Merkley's (D-OR) announcement Wednesday that he'll spearhead a comprehensive LGBT civil rights bill in the next session of Congress.
Johnson reports: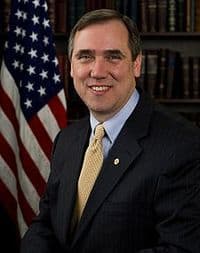 In response to a question from the Washington Blade during the question-and-answer portion of the event, Merkley said he expects discussions among stakeholders to take place on the religious exemption for the legislation, but he wants language that should track "identically the provisions that we currently have for race."
Given his support for legislation that would have a religious exemption mirroring existing civil rights law, one idea, as opposed to a standalone bill for comprehensive protections, is amending the Civil Rights Act and the Fair Housing Act to include sexual orientation and gender identity. Merkley wouldn't rule out the possibility of that path when asked about it by the Blade.
"That certainly is a possible strategy," Merkley said. "And because I want to bring forward a coalition and work in partnership with the stakeholders, I won't now say that there is only one path to get there, but that is certainly one of the strong candidates."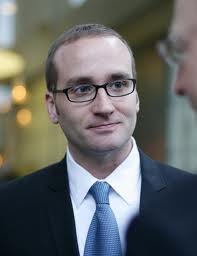 Johnson then took his questions to HRC President Chad Griffin:
LGBT advocates who took part in a panel discussion after Merkley's remarks, including Human Rights Campaign President Chad Griffin, expressed a strong preference for a comprehensive bill with a narrow religious exemption.
…
Griffin said there's "universal agreement" from LGBT groups on what the religious exemption should look like, but LGBT advocates have to make a better case for that language on Capitol Hill by saying LGBT people want the same exemption that exists for other groups under existing law.
"It already exists in law," Griffin said. "There's already a religious exemption, and that's what we've got to do a better job of talking about."
Following the event, the Blade asked Griffin to clarify whether those words mean HRC would decline to support a non-discrimination measure in the upcoming Congress with a broader religious exemption. Griffin replied that he addressed this issue during the event, reiterating that HRC will "support a religious exemption that is the same religious exemption that already exists under law, and I think all of us, all of us — whether advocates, journalists or otherwise — can better make the point that there already is a model religious exemption."
Asked again by the Blade whether that means HRC won't support a bill with a broader religious exemption, Griffin insisted he answered that question directly, adding he doesn't think LGBT allies on Capitol Hill would support a bill with a greater religious carve-out than what's already enshrined under existing civil rights law.