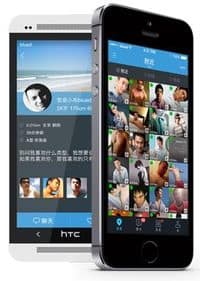 In 2011 Ma Baoli left his job as a Chinese police officer after it was discovered that he was the creator and administrator of Danlan.org, a popular Chinese social network for gay men. Soon after resigning Baoli created Blued, a geo-location based mobile app similar to Grindr.
In the three years since Baoli launched Blued, the application's userbase has expanded to over 15 million people. Unlike many of its predecessors, which the Chinese government has been known to proactively shut down, Blued has found an unlikely ally in governmental officials looking to slow the spread of HIV/AIDS throughout the country.
In the early days of HIV/AIDS the virus was widely thought to be a larger problem for China's rural population. In recent years, however, the rate of new infections is steadily rising within younger populations in more metropolitan areas.
"The proportion of young H.I.V./AIDS sufferers almost doubled between 2008 and 2012, and gay sex is considered a major reason for the increase," Shang Hong, a researcher at the National Health and Family Planning Commission, said to Xinhua.
Reaching out China's gay male population has proven to be difficult for the Chinese Center for Disease Control and Prevention. Though consensual same-sex interactions were decriminalized in China in 1997, much of the country's culture is still somewhat resistant to open frank discussions about LGBT public health when it comes to safer sex.
Blued's parent company Blue City has proven to be an unlikely ally for the Chinese government in its efforts to increase HIV/AIDS awareness and offer HIV blood tests.
"None of our public awareness websites can receive such attention," said Wu Zunyou, the director of the Chinese CDC, said at AIDS awareness gathering last week. "This is a very important channel to be able to spread information about AIDS prevention among the LGBT community."