In a blow to equality advocates, the FDA has announced it has no further plans to discuss changing its longstanding ban on gay men donating blood.
The FDA's Blood Products Advisory Committee had met earlier this month amid talks of dropping the ban and switching to a one-year abstinence stipulation for men who have sex with men. 
Buzzfeed reports: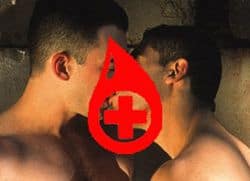 The announcement frustrated LGBT advocates who said the unilateral ban on blood donations unfairly stigmatizes gay men. Now advocates are looking to bypass the FDA advisory panel by pressuring upper tiers of the Obama Administration.
In that vein, some 80 members of Congress plan to ask Health and Human Services Secretary Sylvia Mathews Burwell to change the policy in a letter Monday that will describe the ban as unscientific and outdated, congressional staffers told BuzzFeed News. They said the letter will argue that donors' risky behaviors, whether gay or straight, should be the test of whether they can give blood, not sexual orientation.
American Civil Liberties Union legislative representative Ian Thompson said the comittee's inaction appears to be a "deliberate" decision. "Ideally they would have removed sexual orientation entirely from the donor criteria and moved to a risk-based screening process. That is obviously not what they have chosen to do."
Buzzfeed adds that Senator Elizabeth Warren is spearheading efforts to send a letter next week to more than six-dozen congresspeople asking the HHS secretary to replace the ban with a risk-based policy.