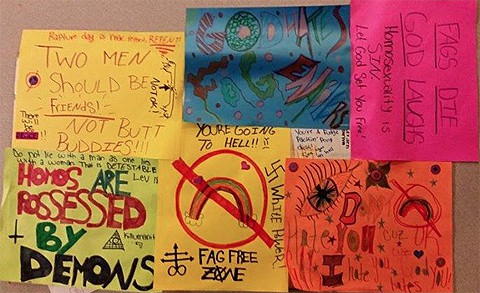 A gay couple living in Anchorage, Alaska had their home and car struck by vandals this week.
Adam Jacobson says that he discovered a frozen soupy substance on the couple's mailbox, an eggshell on the front porch, and a few empty jars in their backyard.
But it was what they found on the windshield of their car that really disturbed them, KTVA reports.
Someone had walked up their driveway to place a sign made up of many smaller signs on the vehicle, which had a swastika on it, and said "FAG FREE ZONE", "White Power", "Fags Die, God Laughs, Homosexuality is Sin", "I Hate You, "Two Men Should Friends! Not Butt Buddies!!!", "Homos are possessed by demons", and "God Hates Fag Enablers".
Jacobson and his husband have lived in their current home for four years. He says that friends and members of the community have been supportive since the incident.
He attributes the hate as a reaction to the recent legalization of same-sex marriage in Alaska, and says the haters are "feeling marginalized and feeling like sort of victims of the progressive moment."