Idaho Governor Butch Otter filed an amicus brief today asking the U.S. Supreme Court to delay consideration of same-sex marriage until it hears from Idaho as he believes the case would be the "best vehicle" by which the Court could resolve "the marriage-litigation wave in all respects," the Spokesman-Review reports: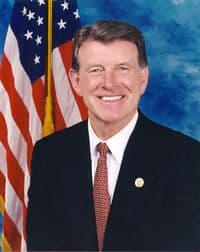 Otter lists several reasons why he thinks Idaho's case is the "best vehicle" for the whole same-sex marriage issue to be decided. Among them: Idaho's includes both the question of in-state marriages and recognition of out-of-state marriages; it would test the 9th U.S. Circuit Court of Appeals' application of a heightened standard of scrutiny for discrimination based on sexual orientation; it brings up religious liberty issues; and Idaho officials, unlike those in many states, have mounted a vigorous defense of their ban on gay marriage.
Otter's legal brief cites "the enormous societal risks accompanying a genderless-marriage regime," and says, "Common sense and a wealth of social-science data teach that children do best emotionally, socially, intellectually and economically when reared in an intact home by both biological parents."
Attorneys Gene Schaerr and Tom Perry, lawyers for Otter, filed the brief in five marriage cases before the Supreme Court challenging rulings by the U.S. Appeals Court for the Sixth Circuit (Idaho is in the Ninth Circuit).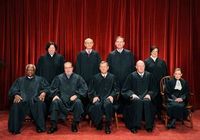 SCOTUSblog's Lyle Denniston explains:
It was in that form because Idaho has not formally appealed to the Justices, while it awaits the rehearing plea it has pending at the Ninth Circuit.
As of now, the Court has five pending cases on the same-sex marriage issue.  Four are petitions challenging a ruling by the U.S. Court of Appeals for the Sixth Circuit, upholding marriage bans in four states (Michigan, Ohio, Tennessee, Kentucky).  The fifth case is from Louisiana, seeking review of a federal judge's ruling upholding a ban in that state.
The Louisiana case is now scheduled for the Justices' first look at the next Conference, on January 9, according to a scheduling note Wednesday on the Court's electronic docket.  That docket also indicated that the four petitions from the Sixth Circuit are being handled as a group, although they have not yet been distributed to the Justices.  There is one more date on which the cases could be sent to the Justices for consideration on January 9: next Tuesday.
Otter wants the Court to wait for Idaho's appeal before deciding which cases to hear, and then add Idaho's case to the review process.
Read the amicus brief below:
Gov. Otter Supreme Court Amicus Brief by Equality Case Files