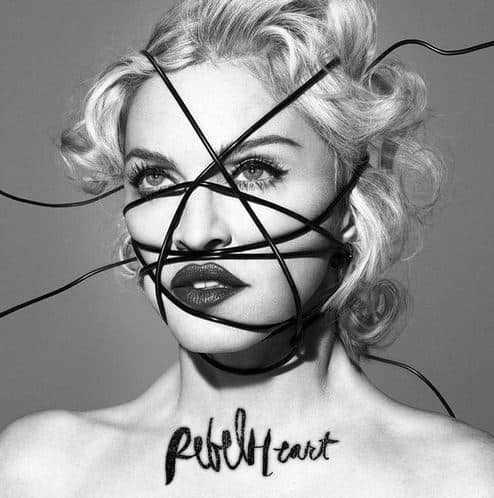 To stave off the flurry of leaks on her upcoming Rebel Heart album, Madonna has released the album's first six tracks on iTunes and other digital retailers this week. And if these six are any indication for how the rest of the album is going to turn out, Madge fans better get ready for another great record.
Tweeted the Queen of Pop with the above image:
X-mas is coming early! Pre order my album and download 6 tracks! Happy Holidays! ❤️#rebelheart pic.twitter.com/YBiJccfQQ4

— Madonna (@Madonna) December 20, 2014
Rolling Stone reports:
More music will be available February 9th, and the full album will be released the first week of March via Interscope.
"I was hoping to release my new single 'Living for Love' on Valentine's Day with the rest of the album coming in the spring," she said in a statement. "I would prefer my fans to hear completed versions of some of the songs instead of the incomplete tracks that are circulating. Please consider these six songs as an early Christmas gift."
Tracks available immediately include throwback house anthem "Living for Love," the ominous "Devil Pray," the lush "Ghosttown," reggae-tinged jam "Unapologetic Bitch," dark "Illuminati" and the Nicki Minaj-featuring "Bitch I'm Madonna." Producers on the tracks include Diplo, Kanye West, Billboard, Dahi, Blood Diamonds and Madonna, herself. Fans can nab the songs as part of an album pre-order or buy them individually a la carte. 
Which is your favorite of the six? I really like "Living for Love". Illuminati is a lot of fun too. 
Listen, AFTER THE JUMP…