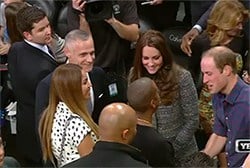 The Duke and Duchess of Cambridge meet Queen Bey and the new Sinatra.

And King (LeBron) James, though he evidently breached royal protocol.

Hugh Jackman shows off and pumps some iron.

Justin Timberlake will be the only former N*Sync-er not present at Lance Bass' wedding.

Jason Momoa bares his bod while vacationing in Brazil.

Meanwhile, his Aquaman will apparently be "bad-ass."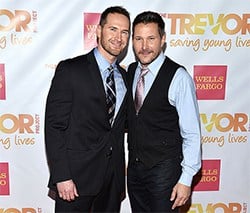 Out country singer Ty Herndon makes first public appearance with boyfriend.

The Daily Beast publishes scathing piece on Chris Hughes and Sean Eldridge, calling them "America's worst gay power couple": "Chris Hughes and Sean Eldridge have always been entitled brats. And now the media has finally noticed….In just the past two months, one half of this pair managed to single-handedly destroy a storied journalistic institution [The New Republic], while the other suffered a crushing electoral defeat in New York's 19th Congressional District.

Disney/Pixar divulges plot details for Finding Nemo sequel Finding Dory.

Sons of Anarchy may be ending, but shirtless Charlie Hunnam GIFs are forever.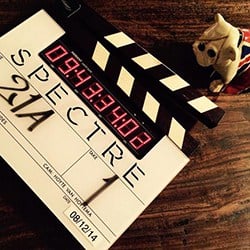 Senate Intelligence Committee releases report on the C.I.A.'s use of torture, faulting the agency with "brutality" and "deceit." From the NYT: "The long-delayed report, which took five years to produce and is based on more than six million internal agency documents, is a sweeping indictment of the C.I.A.'s operation and oversight of a program carried out by agency officials and contractors in secret prisons around the world in the years after the Sept. 11, 2001, terrorist attacks. It also provides a macabre accounting of some of the grisliest techniques that the C.I.A. used to torture and imprison terrorism suspects."

The latest James Bond film, Spectre, has begun filming.

Macaulay Culkin is in a "pizza-themed" band?

Nicole Kidman likes to marry a person then get to know them.

Sy-Fy is working on Superman prequel series Krypton.

Sen. James Infhofe (R-OK), most likely the next chair of the Senate Environment and Public Works Committee, thinks Barbra Streisand invented climate change.
God help us! This man is going to head the Committee on the Environment in the US Senate. Like giving a fox the keys to the chicken coop

— Barbra Streisand (@BarbraStreisand) December 3, 2014