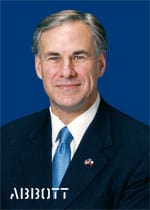 Texas Attorney General Greg Abbott says it would be "deeply offensive" for same-sex marriages to be allowed during his appeal of a federal district judge's ruling striking down the state's marriage bans. 
Abbott made the comments during a press conference Monday where he unveiled his agenda and staff as governor, the Associated Press reports: 
The governor-elect didn't mention gay marriage until he was asked about the 5th U.S. Circuit Court of Appeals, which next month will hear a case in which a judge in February struck down Texas' ban.

Some advocates have asked other Texas judges to begin performing gay marriages pending the appeal, but Abbott said that would be "deeply offensive" since it "would be a clear rebuke of the 5th Circuit's jurisdiction."
U.S. District Judge Orlando L. Garcia stayed his decision striking down the marriage bans pending Abbott's appeal to the 5th U.S. Circuit Court, which has set the case for oral arguments Jan. 9.
However, last month same-sex plaintiff couples asked Garcia to lift the stay pending the appeal, and last week, some county clerks in Texas said they are prepared to issue marriage licenses to same-sex couples. 
Meanwhile, the 5th Circuit stayed a decision striking down Mississippi's marriage ban, which prompted another court filing from Abbott arguing that Garcia should leave his stay in place. 
Nevertheless, WOIA reported Tuesday that Garcia is under "increasing pressure" to lift the stay. 
An appeals court is set to consider the legality of the state law that bans gay marriage one month from today, but a Federal Judge in San Antonio is under increasing pressure to take steps to allow gay marriages to take place in Texas immediately, News Radio 1200 WOAI reports.
I'm not sure what they mean by "increasing pressure," but experts say the 5th Circuit's decision to stay the Mississippi ruling means it would almost certainly grant a new stay in Texas if Garcia were to lift his. The only question is whether there would be a window for marriages to occur, but given that Abbott likely already has his motion for a new stay drafted, that seems unlikely. 
Still, by going around saying it would be "deeply offensive" for marriages to occur and proclaiming who has jurisdiction to perform them, Abbott may only be tempting Garcia to lift the stay.  
After all, the most "deeply offensive" things about this case are Abbott's arguments against marriage equality.