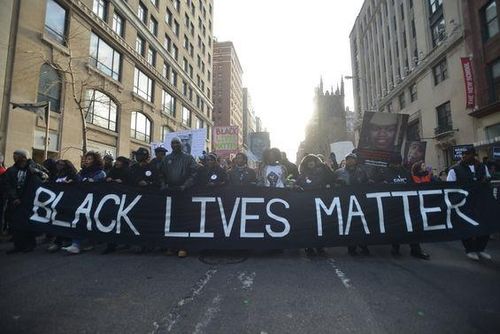 Last Saturday, Al Sharpton's National Action Network organized a peaceful March and rally in Washington, D.C. in protestation of the recent high profile police killings of young black men and children. Thousands flooded into the District's streets, forming a procession that flowed down Pennsylvania Avenue towards the Capitol. Similar demonstrations including marches, "die-ins," and occupations have sprung up across the country following a series of grand jury decisions not to indict various police officers involved in civilian killings.
Writing for Next Magazine, columnist Gabe Gonzalez wonders "Do Black Lives Matter to Gays?" A casual glance at the demographic makeup of protesters shows a mix of different races and genders organizing under the hashtag #BlackLivesMatter, but Gonzalez takes to task the seeming lack of support he sees within many gay social groups.
"After a Staten Island grand jury refused to indict Daniel Pantaleo on December 3 for the murder of Eric Garner, I logged on to Twitter hoping to see a queer community ready to organize and lend support on behalf of black lives," he writes. "It was just two short months ago that we rallied together under the hashtag #MyNameIs, after all. Instead, I saw someone tweet about seeing Kinky Boots for the nth time, some sharing a drag queen's new music video, and others sending out party invitations."
The social mobilization around Facebook's cracking down on drag performers' use of their stage names was swift, though in reality it only affected a relatively small portion of Facebook's total users. Gonzalez argues that regardless of the size of the community impacted, members of the LGBT community are remiss in their decisions to remain virtually silent in the public outcry.
Earlier this year the HRC and 16 other LGBT rights organizations penned an open letter expressing their solidarity with Michael Brown's family. A number of NYC-based LGBT advocacy groups shared a similar letter after it was announced that Daniel Pantaleo, the officer who killed Eric Garner with an illegal chokehold, would not be indicted. Though solidarity from organizations is a start, Gonzalez's call to action is squarely aimed at individuals who seem to have extricated themselves from the conversation:
"When LGBT causes like #MyNameIs grab national headlines, we urge friends and allies of all backgrounds to join our voices in seeking justice. But now, when our black friends have spoken out; when the media has no choice but to repeat the names Michael, Trayvon, Eric, and Akai; when it matters most that we permanently etch these atrocities into our collective histories—we're quiet. Those very same voices that flooded your feed with #MyNameIs or #LoveIsLove and never let you forget they were holding space for a cause until they saw a meaningful outcome can't seem to find the 140 characters to articulate how or why #BlackLivesMatter."