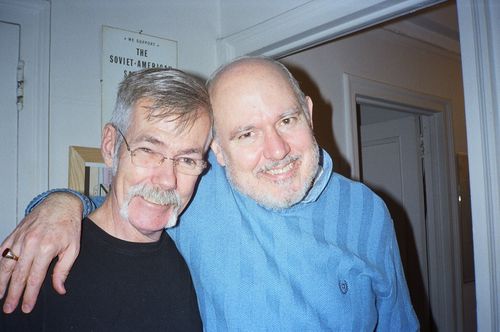 Stonewall Riot witness and participant Danny Garvin (above left) has died at the age of 65.
In a press release sent to Towleroad, Stonewall historian David Carter (above right) recounts Garvin's long history with the gay community and his extensive knowledge about the unofficial start of the modern gay rights movement.  
"Danny was there the night it opened (on his birthday in 1967) and became a regular customer of the Stonewall Inn," Carter said. "He met his first love there by dancing with him, dated the main doorman (Blonde Frankie), and was roommates with one of the men who worked in the coat check.  Danny's knowledge of the club has contributed a lot to a better understanding of the Stonewall Inn." 
"Fortunately, Danny also happened to walk up the street soon after the June 1969 raid began, and his detailed memories of that night significantly add to our knowledge about the Uprising," Carter added.  
"Danny's life story is all the more remarkable and historically relevant because his experiences mirrored those of his generation as if he were a gay Zelig," Carter said.  "Danny was in a gay hippie commune before Stonewall and he was roommates with gay activist Morty Manford after Stonewall. Morty Manford's introduction of Danny Garvin and another gay friend to Manford's parents precipitated Manford's coming out to his parents. Morty's mother Jeanne Manford later founded what became Parents, Families and Friends of Lesbians and Gays, now PFLAG. He hung out with Andy Warhol's crowd, and he founded the recovery contingent of LGBT marchers in the LGBT Pride March each June." 
"Danny's gentle and sensitive nature brought a great deal of warmth and humanity to the history of this watershed event in the LGBT civil rights movement and also endeared him to his friends and family," Carter continued. "In addition to sharing his life story so generously with me, Danny became a friend. He was always a selfless person. Like most authentic Stonewall witnesses, he did not seek the limelight or recognition. Of all the persons I met working on the book, he was the sweetest.  I will always miss him and consider myself blessed and honored to have been his friend."
 Garvin was featured in the 2010 PBS documentary Stonewall Uprising. You can check out a trailer AFTER THE JUMP…
Stonewall, a film by Roland Emmerich starring Jeremy Irvine, Ron Pearlman, Jonathan Rhys Meyers, Joey King, and Caleb Landry Jones, is currently in production.