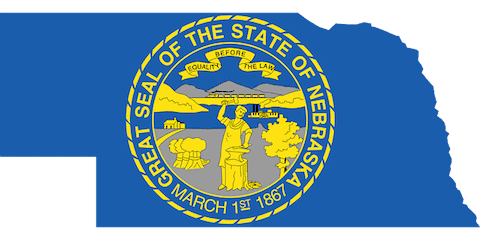 According to a poll conducted by the Omaha World Herald, support for same-sex marriage in Nebraska's largest city is at an all-time high. Compared to the rest of the Nebraska, the state-wide survey found, Omaha remains disproportionately supportive of LGBT equality. While a plurality of Omaha residents reported being in favor of legislation that would mandate marriage equality, 54% of Nebraskans overall reported  being opposed to such a law.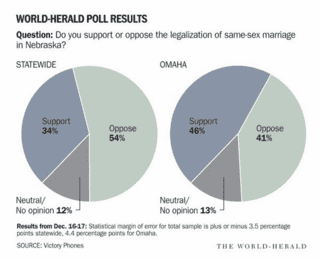 "Even though marriage has been overturned in a vast majority of states, in almost every situation it was a federal judge who overturned it and not the will of the people," said executive director of the Nebraska Family Alliance AJ Riskowski.
Nevertheless, advocates for Nebraskan same sex marriage are preparing to push back against the state's current ban on gay marriage that was signed into law in 2000. Last month the Nebraskan branch of the ACLU filed a new class-action lawsuit challenging the Constitutionality of Nebraska's ban.
"Our lawsuit recognizes that sometimes citizens must turn to the beautiful saving grace of the courts in our system of government to protect their constitutional rights," said Danielle Conrad, executive director of the ACLU of Nebraska.
For all of the hope that the World Herald's Omaha respondents have reflect, the numbers from the state as a whole reflect an uphill battle for gays and lesbians. Both Conrad and Riskowski point out the fact that a decision to repeal or overturn Nebraska's ban would ultimately fall into the hands of the state's overwhelmingly conservative voters.