One Direction's Niall Horan landed in a bit of hot water last week after he and The Voice of Ireland host Eoghan McDermott supposedly hijacked a friend's Twitter account and posted a joke about the friend's sexuality.
Horan and McDermott were hanging out with Irish singer Niall Breslin on St. Stephen's Day (Dec. 26) when this (since deleted) tweet was sent out on Breslin's twitter account:
"I've been experimenting with my sexuality. No conclusions reached as of yet but it's been a fun ride so far."
Breslin quickly apologized with a photo reply: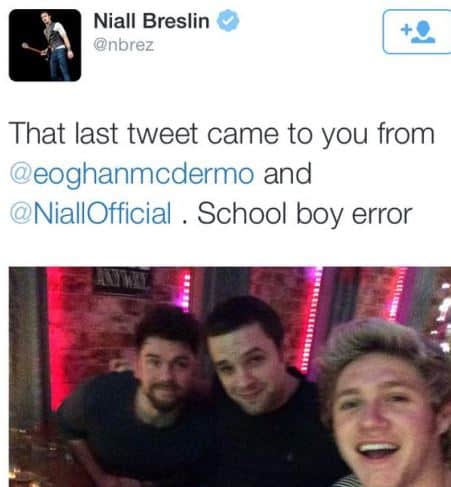 Backlash against Horan and McDermott was swift, with many on Twitter accusing the trio of sending a bad message to gay youth. 
Disappointing to see @nbrez brush aside a joke about sexuality made on his account. Many young ppl struggle desperate with their sexuality.

— The Weirwolf of Xmas (@jon_weir) December 26, 2014
Irish hurler Conor Cusack, who came out of the closet earlier this year, also tweeted his displeasure with the trio's shenanigans:
@nbrez @eoghanmcdermo @NiallOfficial subtle tweets like that exploiting a persons sexuality in a negative way doesn't help things fellas
— Conor Cusack (@Conor14Cusack) December 26, 2014
McDermott and Breslin later both expressed remorse for the tweet:
@tails509 @jon_weir and I am well aware and sincerely sensitive to MH issues in LGBT youth. I have worked closely with groups on this.

— Niall Breslin (@nbrez) December 26, 2014
@nbrez @ChaseTheStars_ Yep, very childish and ill-thought out. Apologies indeed. Zero offence intended to any beautiful person.

— Eoghan McDermott (@eoghanmcdermo) December 27, 2014
Horan though, has kept mum about the entire affair.